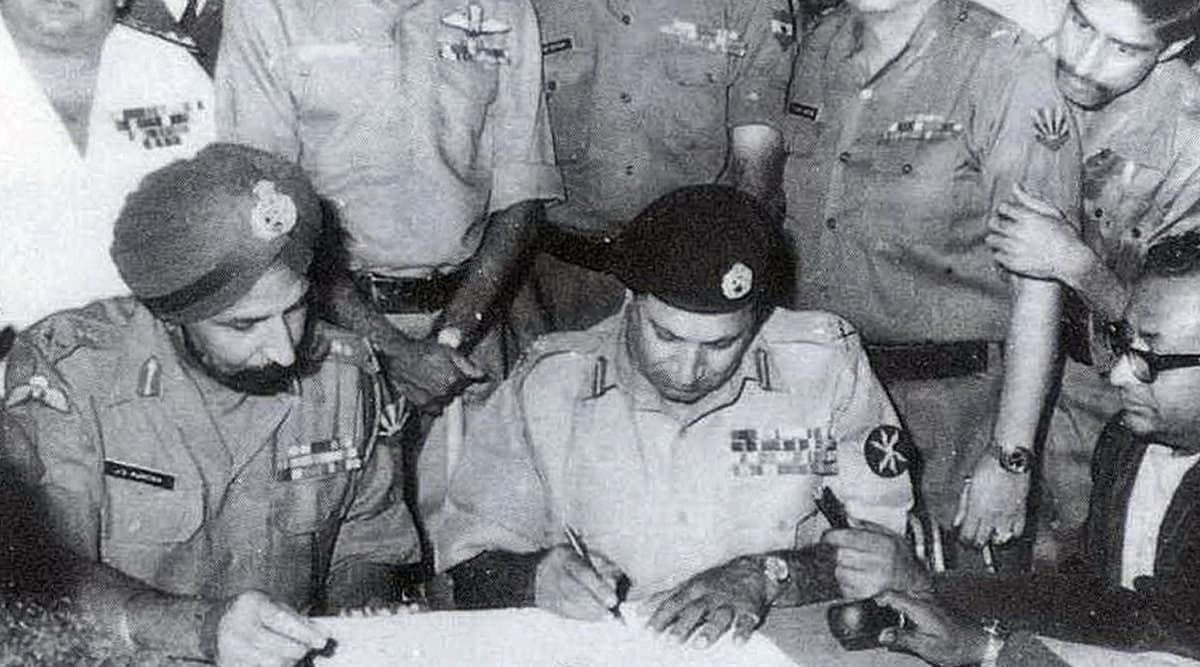 December 16 assumes significance for India, Pakistan and Bangladesh. In India, December 16 is celebrated as Vijay Diwas or Victory Day to mark India's victory over Pakistan in the 1971 war which led to the liberation of Bangladesh. Indian armed forces exhibited extraordinary bravery and brought the Pakistani army to its knees and helped secession of East Pakistan into Bangladesh where December 16 is commemorated as Bijoy Dibos or Victory Day. Bangladesh Publishes List of 'Razakars' Who Sided with Pakistan Army During 1971 War.
The military conflict between India and Pakistan occurred when then Indian Prime Minister Indira Gandhi decided to wage a war against Pakistan for carrying out atrocities on innocent Bengali population, particularly the minority Hindu population in East Pakistan (now Bangladesh). The anti-Pakistan sentiments had been in East Pakistan since the Partition of 1947. People in East Pakistan, largely Bengali speaking, were unhappy with Pakistan's religious establishment. Air Force Day 2019: From Bangladesh Liberation War to Balakot Airstrikes, List of Major IAF Operations in Post-Independence India.
In 1970, in the first-ever general election held in Pakistan, people overwhelmingly voted for the Awami League, headed by Sheikh Mujibur Rahman, who has become the symbol of freedom for the Bengalis. This alarmed the 'West' Pakistan and the army who then decided to crush the Bengali resurgence. As Pakistan's atrocities increased with the help of 'Razakars', India, led by Indira Gandhi, not only decided to take military action against Islamabad but also gave refugee to those fled East Pakistan due to persecution. 1971 War Hero Captain M N Samant Dies.
Gandhi ordered then Indian Army Chief General Sam Manekshaw to launch an offensive against Pakistan. On November 26, 1971, Indian forces moved into East Pakistani territory. Pakistan retaliated by launching air strikes on 11 Indian airbases. India quickly responded to Pakistan's aggression with its Air Force and overwhelmed it. Besides successful dogfight, India also attacked the Karachi port and which caused significant damages to Pakistani destroyer PNS Khyber and minesweeper PNS Muhafiz were destroyed and PNS Shah Jahan.
The Indian Army reportedly helped the Bangladesh Force, namely the Mukti Bahini, in learning warfare and providing ammunition supplies. On December 3, Indian and Pakistani forces came face to face in Dhaka (then Decca). The joint forces of India and Bangladesh overpowered with the Indian Army taking 93,000 Pakistani prisoners. On December 6, Gandhi announced in Parliament that India had accorded recognition to the Bangladesh Government.
On December 16, 1971, the war ended after the chief of the Pakistani forces, General Amir Abdullah Khan Niazi, along with 93,000 troops, surrendered to the joint forces of Indian Army and Bangladesh's Mukti Bahini. The war lasted for just 13 days, and is one of the shortest wars in history. With the victory over Pakistan in the 1971 war, India gave 75 million people of Bangladesh their independence.