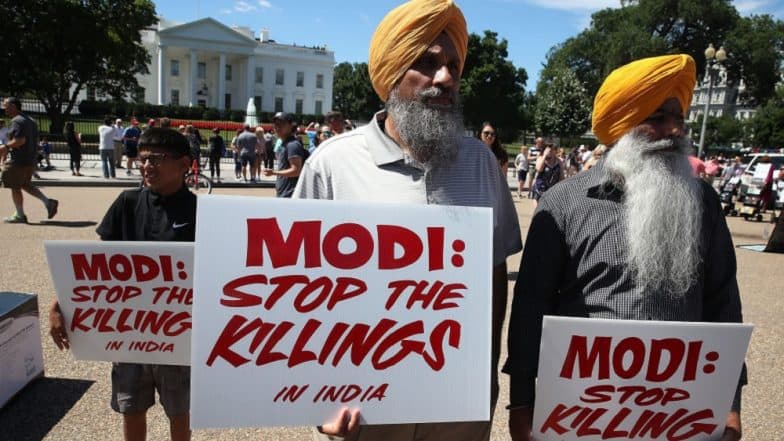 Washington, January 27: The pro-Khalistan group 'Sikhs For Justice (SFJ)' had planned an offensive form of protest against the Indian government, as they planned to burn the Indian national flag in Washington DC on Saturday, when the Republic Day was being celebrated in India. The SFJ was later forced to retract after drawing immense flak from the Indian diaspora in the United States.
The fringe group had called its protest in a park close to the Indian embassy in Washington. As they gathered to raise slogans, a large number of nationalist Indian-Americans, including members of the Sikh community, approached and shout down their anti-India slogans with patriotic chants. Referendum 2020: 'ISI, Pro-Khalistan Groups Behind Campaign', Says All-India Anti-Terrorist Front Chief MS Bitta.
Moreover, the SFJ event turned into a flop show with only 15-20 fringe activists participating in it. Considering that the event has largely been boycotted by the Sikh community in Washington, the group decided to cancel the flag-burning programme.
#WATCH: A few Pro Khalistani supporters fail to shout down Indian Republic Day celebrations in Washington DC, USA. (26.01.2019) pic.twitter.com/kQhku392zw

— ANI (@ANI) January 27, 2019
The SFJ, however, later claimed that it had successfully burnt an Indian flag as a mark of protest outside the Indian embassy. Their claim has been contradicted by news agency ANI, which has confirmed through multiple sources that no flag-burning incident was reported in the vicinity of the embassy.
Sources: Sikhs for Justice's claim on their website that they burnt an Indian flag outside the Indian Embassy is completely false. As the photos/videos show, no such thing took place. The claim is intended to cover up for their flop show. https://t.co/Nx3rv2nyvT

— ANI (@ANI) January 27, 2019
The Sikhs of America, the largest group of the minority community in America, has denounced the  SFJ, calling it a brazen attempt to disrupt the state of peace and harmony.
"The Sikhs of America condemns and denounces in the strongest terms the planned burning of the Indian flag on the occasion of India's Republic Day outside the Indian embassy in Washington DC. Sikhs reside and have businesses not only all over India but also boast a global presence. Such theatrical protests like flag burning are detrimental to the peace loving and harmony enhancing Sikh community everywhere," said the statement issued by the group.