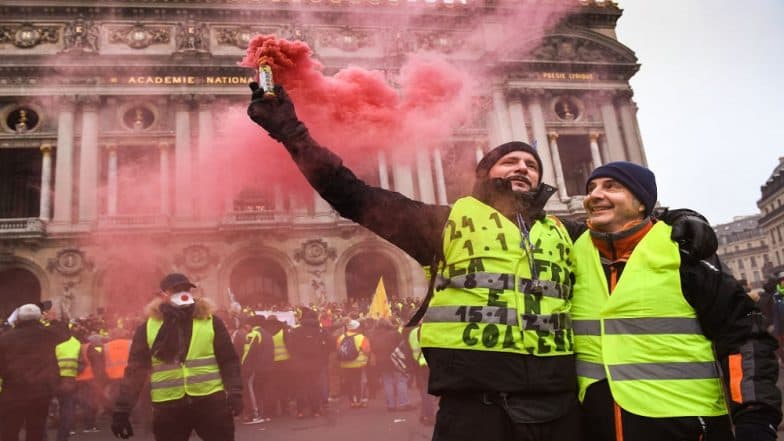 Paris, March 17: Protesters of the "yellow vest" movement, who issued a clarion call to its cadres across France, unleashed on a rampage this weekend in the country's tourism-centric capital. Several luxury stores and restaurants based at the plush Champs-Elysees avenue, were vandalised, burnt and looted.
The luxury outlet which suffered huge losses, includes luxury handbag store Longchamp and apparels' showroom of Hugo Boss. Among high-end restaurants, Le Fouquet's Brasserie was burnt down and looted. 'Yellow Vests' Protests — The Worst Civil Agitation in Over a Decade.
The French Interior Ministry launched a crackdown to reign over the 10,000 plus protesters who had gathered in Paris. Over 200 were arrested and nearly 350 taken into preventive custody as the Emmanuel Macron government issued orders of "sternest approach" against the arsonists.
Interior Minister Christophe Castaner said the yellow vests movement has been infiltrated by criminals, thugs, dacoits and "ultra-violent" arsonists. "They are not protesters. They are anarchists, who want to smash things us and loot the remains," he said.
President Emmanuel Macron, who had left for a personal visit to a skiing resort in Pyrenees, cut short his trip and returned on Saturday to chair a crucial "crisis-meeting".
The yellow vest movement was launched in November last year, to protest against the high taxes imposed on fuel. The agitation, however, culminated into a movement against Macron's economic policies, which both the far-left and far-right have charged as "pro-rich" and "elitist".
The protests, however, has lost momentum as compared to December -- when nearly 300,000 French citizens had revolted against the government. The numbers have drastically shrunk over the past few weeks, with the government estimating not more than 30,000 active protesters across the country.