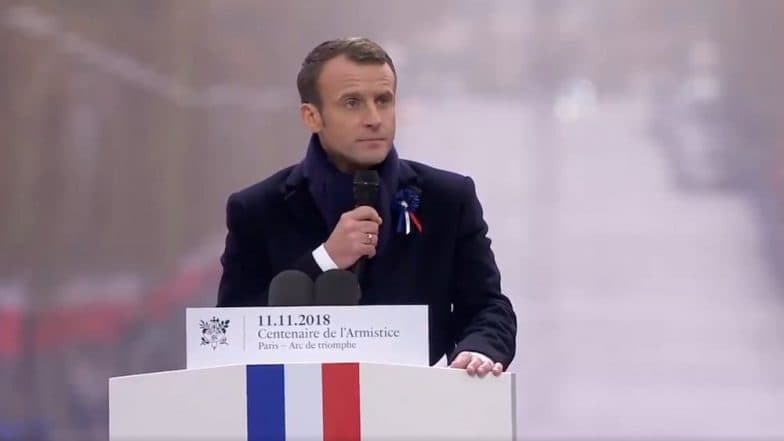 Paris, December 11: French President Emmanuel Macron on Monday announced that he will raise the monthly minimum wage by 100 euros ($113) and lower taxes on retirees and workers in a somber speech to the nation in which he tried to respond to the demands expressed in the so-called "yellow vest" protests. The president acknowledged that his words "may have hurt" some people in the past, adding that he considered justified the discontent that sparked the protests, in response to which he had announced by decree a "state of economic and social emergency." "I may have given the impression that it wasn't my problem, that it wasn't my priority. I may have hurt some of you with my words," said Macron in his 13-minute televised -- albeit pre-recorded -- address, reports Efe.
Macron acknowledged that the country is facing "an historic moment" and asked the large companies to participate in the necessary efforts to change the situation. The French leader said that the increase in the minimum wage (currently 1,498 euros a month) will enter into effect in January 2019 "without costing anything to the employer," adding that overtime work will be exempt from taxes and other charges, also starting in the new year. Macron also asked all businessmen "who can" to provide their workers with a yearend bonus that will also be exempt from taxation. France Yellow Vest Protests: Government Mulls State of Emergency Over Agitations Against Fuel Price Hike and Economic Policies.
In the aftermath of the violent 'yellow vest' protests that rocked France lately, President Emmanuel Macron assured the people of the country that the minimum wage would be raised and new taxes on pensions would be abolished

Read @ANI Story | https://t.co/3MoxgGxXoK pic.twitter.com/72GpOBzFP5

— ANI Digital (@ani_digital) December 10, 2018
In addition, the French president said that retirees who receive less than 2,000 euros per month will have the increase in the tax on social security funds nullified. On the other hand, he said he did not agree with the idea of restoring the wealth tax paid in the past by some people with net assets of more than 1.3 million euros, a tax which he scrapped when he took office in 2017. France Protests: What Are The 'Yellow Jacket' Protesters Demanding From President Macron?
"We want a France where a person can live in a dignified way from their work. I ask the government and the Parliament to do what is necessary," the president concluded regarding the series of planned measures, accompanying them with a condemnation of the acts of violence at the protests.