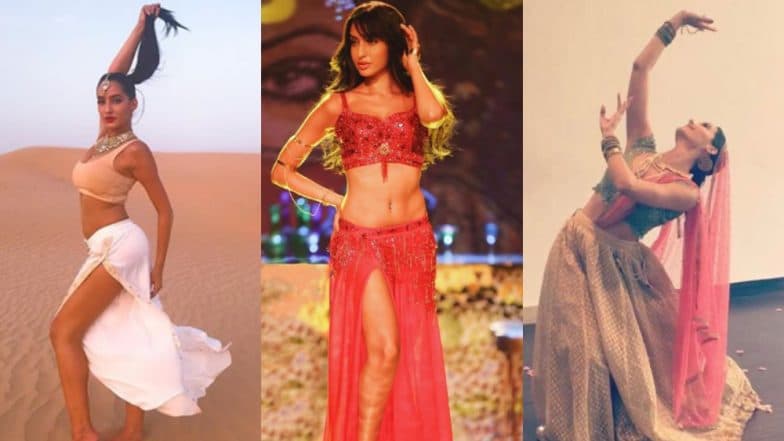 Nora Fatehi rose to fame after she entered a rather forgettable season of Bigg Boss. But unlike many TV reality show contestants, she wasn't there to be lost in oblivion post the conclusion. Nora made everyone aware of her exceptional dancing skills quite early on in her career. She then became more and more popular one special appearance in a song at a time. Until she landed a role in Bharat and Street Dancer, which happened after her song Dilbar refused to stop garnering thousands of views every day on YouTube. So, on her birthday, give us a chance to write this out and out Nora Fatehi appreciation post.
Nora Fatehi's heart-stealing dance moves were not limited to her on-screen appearances. She made sure to post regular social media updates, turning herself into an online celebrity before you can say 'so you think you can dance'. So, here are our favourite videos through which she made us go crazy by moving her Kamariya.
Dilbar
Do we need to really write words to appreciate this one? The 434 million views (and counting) say it all. In case you did not know Nora also choreographed a bit of this song.
Kamariya 
Nora followed up the success of Dilbar with yet another hit, Kamariya. Apart from killer dance moves, with Kamariya Nora showed us how to rock white sneakers with red ethnic wear. On second thoughts, Nora might be the only person who could rock that combo.
This impromptu performance
Can you even believe this was not a planned performance by Nora? She says she was just feeling the music. I can't even follow instructions by my aerobics instructor.
Kathak Pro
You thought belly dancing is the only dance form she is a pro at? Haha! Look at our main girl rocking this classical Indian performance. Nora is the Sharma ji's kid our parents keep comparing us to.
The Baahubali girl
How can we forget that Nora also stars in one of the most successful movies in India? In case you did not know already, that is Nora in that song from Baahubali. Before we were introduced to her through Bigg Boss.
The time she turned Swag Se Swagat into a belly dance number
When you hear Swag Se Swagat al you want to do is do some cool club wale moves. But Nora saw the versatility in the song and shook her belly to the Arabic version of it. No wonder she landed a role in Salman's next film, Bharat.
Maahi Ve!!!
Kathak: check. Belly dancing: Check. Pole dancing: Check.
Well, if we sat down to list down all the dance numbers we love Nora for, we'd be here for a very very long time. Probably until its time to wish her birthday again. So, we'd wrap our list and ask you to stalk her on her social media platforms, like us. A very happy birthday Nora Fatehi.