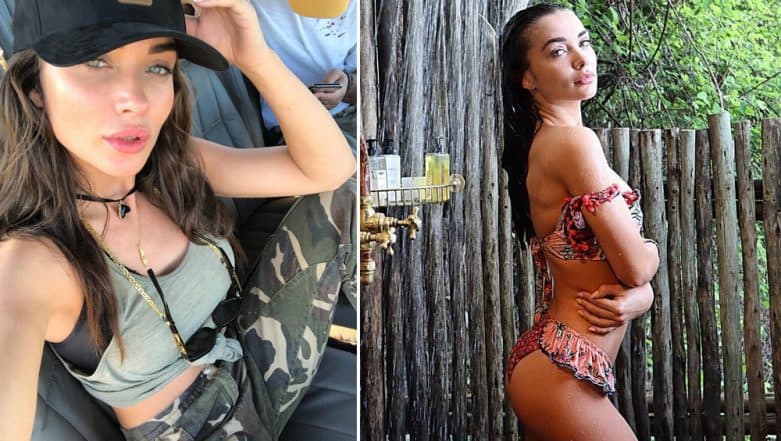 Amy Jackson spent a wild wild New Year this time with her millionaire boyfriend in the jungles of Africa! And before you take a 'wild' guess about what we're talking about, let us get this straight - it's not what you're thinking! Amy and her boyfriend spent the New Years in Africa in the wilderness amidst wild animals and if their photos are anything to go by, they seemed to have had the time of their lives there. The trip was special for umpteen reasons- one of them being the couple getting engaged! Yes, Amy announced it on Instagram how her boyfriend George Panayiotou proposed to her on January 1, 2019 and she said yes. Isn't that amazing? Amy has definitely joined the bandwagon of actresses who are expected to tie the knot this year. Amy Jackson Announces Engagement to Millionaire George Panayiotou - View Pic.
As for her vacay, we can't get enough of the safari that she was on! I mean, they were right in the middle of a jungle, in the midst of wild animals including elephants, zebras and lions too! Now that's just the perfect adventurous holiday that we need to get away from the hustle and bustle of the city life.
Check out all pics from her African vacay with boyfriend George Panayiotou here-
Oh! How beautiful!
View this post on Instagram
The hottest cowgirl we've ever seen
View this post on Instagram
Adventure of a lifetime
View this post on Instagram
So stunning
Wish we could be here too...
View this post on Instagram
Amy's boyfriend George is 30 years old and is the son of one of the richest men in Britain. George himself has a successful property business of his own. He is the head of acquisitions and development at The Ability Group. He is the owner of Liverpool's high-end nightclub, named Playground. He has also participated in a British reality show titled Desperate Scousewives. We wish the couple a very happy courtship. Amy Jackson and Boyfriend George Panayiotou Share a Warm Kiss on Christmas Eve and That's What We Call a Perfect Celebration - View Pic.
As far as Amy is to be talked about, we haven't been seeing much of her in Bollywood. Her last film was Shankar's 2.0 which also starred Rajinikanth and Akshay Kumar. The actress also joined the cast of Supergirl as superhero Imra Ardeen.