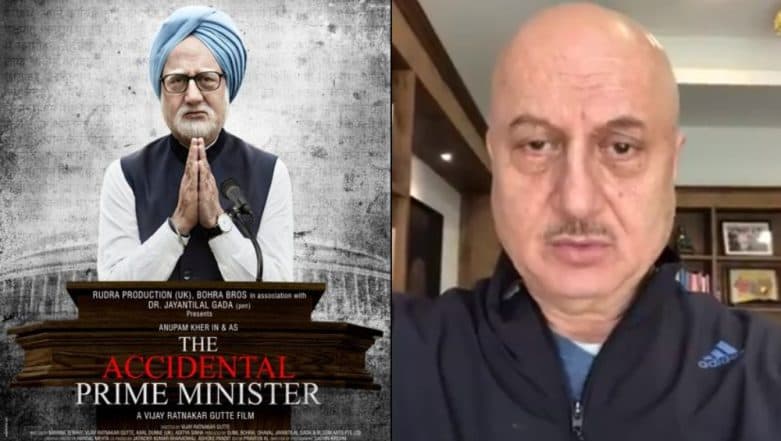 Anupam Kher's The Accidental Prime Minister is one of the first movies to release in 2019. And it is also one of the first movies to garner controversy. Theatres are being vandalised and screenings of the movie are being disrupted allegedly by a political group in protest of the movie. Can we call that progress? Because in 2018, theatres weren't vandalised until the end of January, for Padmaavat. This time, we are already there before even mid-Jan. Well, Anupam took to his Twitter handle to appeal to the authorities to take an action against this criminal activity and let the movie run in peace. The Accidental Prime Minister Box Office Collection Day 1: Anupam Kher's Movie Collects Rs 4.50 Crore.
We hope the government listens to the veteran actor and ensures that The Accidental Prime Minister gets a smooth sailing. Because freedom of expression is our constitutional right. The Accidental Prime Minister Movie Review: Akshaye Khanna and Anupam Kher Make This Part-Satire, Part-Propaganda Watchable!
An appeal to the authorities to stop a section of people who are indulging in acts of violence & hooliganism during the screening of our film #TheAccidentalPrimeMinister. Also a call out to other section of people who believe in selective outrage towards #FreedomOfExpression.🙏 pic.twitter.com/ULgSPj2H5l

— Anupam Kher (@AnupamPKher) January 12, 2019
Following the acts of vandalism at the Kolkata multiplex and a series of protests over the screening of The Accidental Prime Minister, a number of theatres in the city stopped screening the film, based on former Prime Minister Manmohan Singh's tenure.
"We sold moderate number of tickets for the afternoon show of the film yesterday. Viewers were also present at the theatre but soon after we got a call from the police asking us to stop the film for security reasons. We followed it and refunded the money to the viewers," an official from Hind Cinema, in Kolkata, told IANS.
The Accidental Prime Minister is based on a book with the same title written by Sanjaya Baru, former Prime Minister Singh's media advisor. Baru's book was published in April 2014.