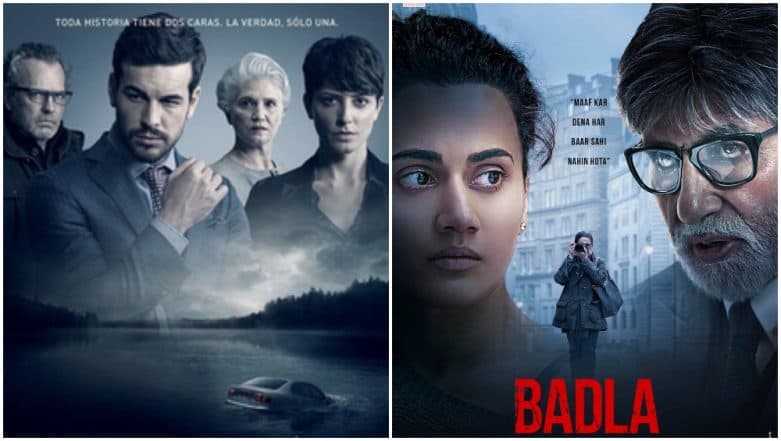 The first trailer of Badla has come out, and it has left us hooked and asking for more about the mystery of it all. The movie, directed by Sujoy Ghosh, reunites the PINK stars Amitabh Bachchan and Taapsee Pannu as the lead protagonists here. Interestingly, Shah Rukh Khan's Red Chillies Entertainment is one of the producers of the movie, though there is no confirmation yet if he is going to make an appearance in Badla. The trailer is all sorts of intrigue with Amitabh Bachchan playing a smart lawyer and Taapsee Pannu his new, mysterious client. Badla Trailer: Amitabh Bachchan and Taapsee Pannu's Thriller Will Leave You Intrigued Right From The Word Go.
The trailer builds upon the mystery about the case that Taapsee's character is involved. She goes on a secret getaway with her lover where all hell breaks loose. She gets knocked out by a stranger and while she is unconscious, her lover gets killed. The blame of his death falls on her, who is also already married with a kid. Amitabh Bachchan's lawyer tries to get the truth out of her, though at times, he thinks she is not telling the whole story. Amitabh Bachchan and Taapsee Pannu's Badla, Produced By Shah Rukh Khan, To Release on March 8, 2019.
ICYMI, Here's the Trailer of Badla:
Badla is reportedly a remake of the Spanish thriller Contratiempo, which is internationally known as The Invisible Guest. The movie had come out in 2016 and was directed by Oriol Paulo. Interestingly, one of his other movies, The Body, is also being remade in Bollywood with Emraan Hashmi and Rishi Kapoor in the lead. The Body! Is This Title of Rishi Kapoor and Emraan Hashmi's Thriller With Jeethu Joseph?
Talking more about The Invisible Guest, the movie stars Mario Casas and Blanca Martínez in the lead. When it comes to Badla, there is a gender reversal in who is playing the lead roles. Mario Casas plays Adrian, who is accused of killing his married lover in a cabin, a role that Taapsee is playing in Badla. Blanca Martínez plays Virginia, the lawyer that is sent to represent Adrian and hear out his version, which is what Big B is playing in the remake. If you are curious to know what the plot is all about, you can read it all here. Needless to say, it is filled with SPOILERS and you will find out why the remake is called Badla!
Here's the trailer of The Invisible Guest:
The Invisible Guest, unlike the more acclaimed The Body, was met with mixed reviews. However, the movie performed well enough at the box office and the aura was sufficient for Sujoy Ghosh, who gave us the scintillating Kahaani, to notice and go for a remake. Badla, meanwhile, will release on March 8, when we will find out if Sujoy has gone for a frame to frame adaptation or added some mystery of his own.