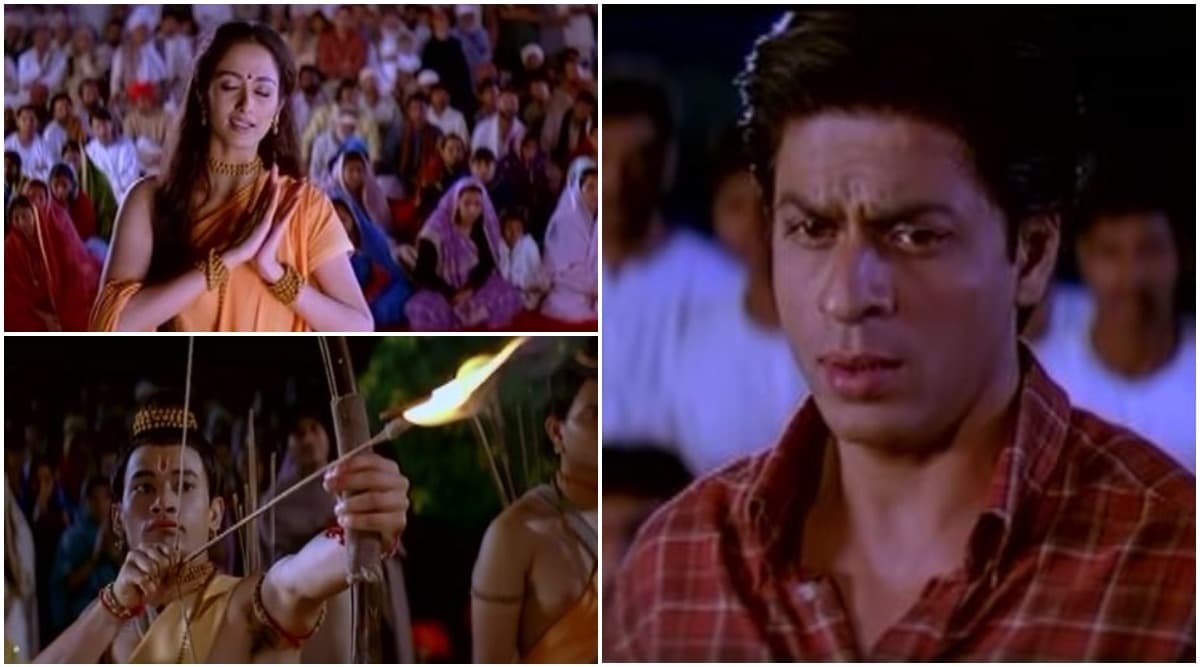 Okay, there is no need for me to elaborate on the turbulent times that we are living in. Without proportioning blame on anyone (with blame actually falling on each one of us), there is a very dangerous feeling of discord among the people. There is a sense of distrust among the countrymen, we are already questioning our brethren's belonging in this country. It's like the demon has already taken command of our social consciousness. So why not use the occasion of Dussehra to vanquish that demon, just like how the festival is celebrated to honour Lord Rama's win over Raavana? Happy Dussehra 2019 Messages: Dasara Wishes, Images, SMS & Greetings to Send to Friends And Family.
Let's use this day to think and revere those moments that represent India's unity in its diversity, that made our country have a higher moral ground over its Islamic neighbour. Being a filmy person and a huge fan of the movie, I can't really think of any Indian pop culture reference than the "Pal Pal Hai Bhaari" song from Swades that pays tribute to the idea presented in the previous sentence.
So what's so special about this song, that in fact, is set during a Ramlila sequence -  a Hindu occasion? "Pal Pal Hai Bhaari" is about Sita's yearning for Lord Rama, while she is in captivity of Raavana. When Raavana taunts her about her husband, Sita sings praises of Rama, even saying that words aren't even enough to describe his greatness. Director Ashutosh Gowariker, a Hindu himself, provides the singing voice to the folk singer who sings for Raavana. Dussehra Special: 7 Popular Ramleela Sequences in These Shah Rukh Khan, Akshay Kumar, Varun Dhawan Movies That You Should Not Miss (Watch Videos).
Now, here is where the most fascinating bit about the song comes in. Every song in Swades, including "Pal Pal Hai Bhaari" is composed by AR Rahman, who was born a Hindu (his birth name was Dilip), but was later converted to Islam. The beautiful lyrics of the song is written by Javed Akhtar, who is born Muslim but practices atheism. And what's more the leading man in the film, who also mouths the best lines of the song - Shah Rukh Khan - is a practising Muslim. Madhushree, a singer based from Bengal, and Vijay Prakash from Kannada, have crooned the track. So much diversity in just one song.
Watch the video below:
Like I said before, the best portion of the song is when SRK's Mohan Bhargava begins to croon. The lines go,
"

Raam

 

H

i 

T

oh 

K

aruna 

M

ein 

H

ai…

Shaanti Mein Raam Hai…

Raam Hi Hai Ekta Mein…

Pragati Mein Raam Hai…

Raam Bas Bhakton Nahin,

Shatru Ke Beech Chintan Hai…

Dekh Taj Ke Paap Raavan,

Raam Tere Mann Mein Hai…

Raam Toh Ghar Ghar Mein…

Har Raam Har Aangan Mein Hai…

Mannse Raavan Jo Nikaale…

Raam Uske Mann Mein Hai…

Mann Se Raavan Jo Nikaale…

Raam Uske Mann Mein Hai!"
In this particular stanza, the song doesn't laud Lord Rama as a deity, but the very of idea him encapsulating the goodness in every one of us. The song tells us that if you discard the evil and hate within himself or herself, even someone as cruel as Raavana would find Lord Rama within himself. With these lines, the notion of what Lord Rama becomes transcends beyond the boundaries of any particular religion or caste, and becomes a universal amalgamation of love, peace and fortitude.
This messaging is what makes "Pal Pal Hai Bhaari" so special and passionately stands for everything that the festival of Dussehra is celebrated for that. It is not just the physical vanquishing for Raavana that Dussehra wants us to so, the festival also reminds to take care of the inner Raavana within ourselves. And in these torrential times, that's the need of the moment.
(The opinions expressed in the above article are of the author and do not reflect the stand or position of LatestLY.)