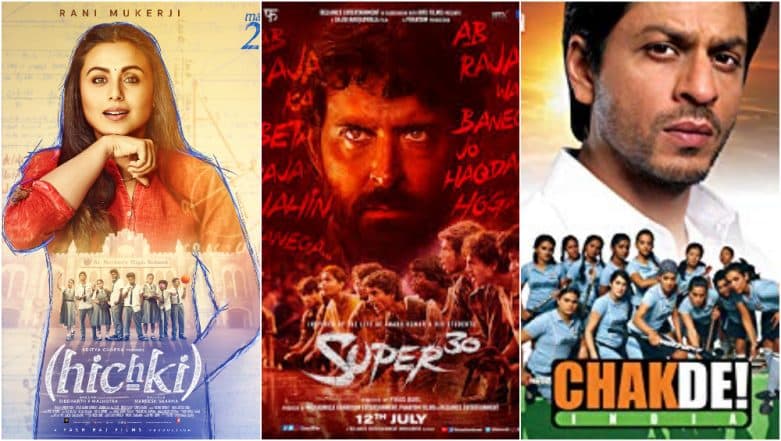 Teachers' Day is celebrated every year on September 5. On this special day, we celebrate the contribution of teachers in our lives. In India, it is celebrated in the memory of former President Dr Sarvepalli Radhakrishnan. The day is celebrated to honour teachers and their service in shaping the lives of students not just on the professional front but also on the personal side.Teachers' Day 2019 Gifts: Express Gratitude to Your Guru with These Meaningful Gift Ideas (Watch DIY Present Video). 
On this day, several schools and colleges observe celebrations honouring their teachers. There have also been several films revolving around teachers. Many filmmakers have taken on the task of giving us some of the best teacher characters in various films from Taare Zameen Par to the recent Hrithik Roshan starrer Super 30, here's looking at some of them.
Hichki:
Rani Mukerji's 2018 release was a classic example of how teachers selflessly try to look out for their students and what's best for them. We saw Rani play the role of a teacher who is living with Tourette's syndrome and that doesn't stop her from wanting to be a teacher. When she gets a chance to teach a bunch of misfits, she makes the best of this opportunity and disciplines them.
Black:
For a teacher, there's no challenge, all they want is to see their student excel and no other film showed this more beautifully and realistically like Black. The film starring Rani Mukerji and Amitabh Bachchan has been one of the most loved Sanjay Leela Bhansali films for portraying a beautiful student-teacher relationship between Amitabh Bachchan and Rani Mukerji's characters. Teachers' Day 2019: From Titan to Bournvita and Visa, Watch These All Time Favourite Emotional Ads Which Capture the Precious Student-Teacher Relationship.
Super 30:
The recently released Hrithik Roshan starrer was a biopic on the life of Anand Kumar, a real-life inspirational teacher and mathematician. The film showed how a great teacher can recognise the potential in every child and build them up for success with discipline and hardwork. In the film we saw Hrithik's character helping underprivileged children to crack IIT entrance exams.
Taare Zameen Par:
This will remain to be one of the most iconic films when it comes to student-teacher relationships. It was amazing to witness how Aamir Khan's Ram Nikumb not only recognises Darsheel Safary's Dyslexia but also helps him to deal with him while also schooling his parents about understanding their child's problems. The film was also an honest take on the Indian education system that fails to truly integrate children suffering from learning disorders.
Chak De India:
Teaching is not only about academics. For a sportsperson, there's no greater teacher than their coach and when it comes to portraying that, there's no one better than Shah Rukh Khan in Chak De. It is amazing to see his character of a former hockey player whose career is tainted with a loss and how he makes sure history doesn't repeat itself whilst turning a coach to the women's hockey team for a world championship.  Teachers' Day 2019 Information: Know About The Day Observed in the Memory of Former Indian President Dr Sarvepalli Radhakrishnan.
Rockford:
Teenage is hard phase as a student has to deal with multiple things from hormones to almost adulting and there's no film that showed it better than Nagesh Kukunoor's Rockford. The film showed how important it is to have a great teacher along the way to help guide students during this phase.
We hope you enjoy these movies on the special occasion of Teacher's Day and make sure to convey your wishes to those who helped shape your lives and taught you not history lessons but also life lessons.