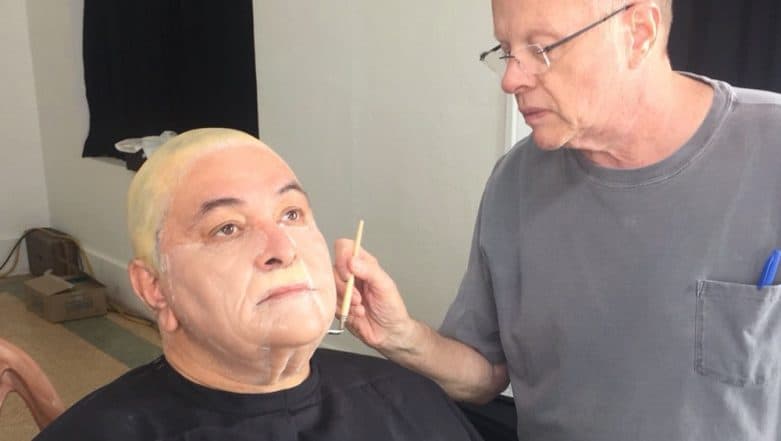 The most prestigious award ceremony Oscars 2019 is currently being held at the Dolby Theatre in Los Angeles, USA. The enthusiasm to know who amongst the nominated will win big at the 91st Academy Awards is sky high. Adam McKay directorial Vice is competing under numerous categories and one of them includes Best Achievement in Makeup and Hairstyling (Greg Cannom, Kate Biscoe, Patricia Dehaney). Greg and his team have won the highly esteemed trophy for the amazing transformation work of Christian Bale into former Vice President Dick Cheney in Vice. Oscars 2019: Spike Lee Wins Best Adapted Screenplay for BlacKkKlansman, Says 'Make the Moral Choice Between Love Versus Hate' in US Elections 2020.
The veteran actor of Bollywood Rishi Kapoor and wife Neetu Kapoor congratulated Greg Cannom and his team on winning the award at Oscars 2019. Greg has worked with Rishi Kapoor in the film Kapoor & Sons and was the one responsible for the actor's unbelievable look in the film. In the post Rishi Kapoor has also mentioned how it took five hours each day for the transformation. Fans were undoubtedly impressed with the actor's look in the film. Chris Evans Proves That Chivalry Isn't Dead By Helping Regina King With Her Gown At The Oscars 2019! [Watch Video]
Take a look at the posts shared by Rishi Kapoor and Neetu Kapoor:
Congratulations Greg Cannom for your fourth Oscar for the film Vice. You did Kapoor& Sons with me. Bravo! pic.twitter.com/R0f5y1a8Ue

— Rishi Kapoor (@chintskap) February 25, 2019
This was the transformation which took 5 hours daily. "Kapoor&Sons". Cheers Greg Cannom from all of us. You are a genius! pic.twitter.com/IFXsOLHdb0

— Rishi Kapoor (@chintskap) February 25, 2019
Watch the trailer of Vice here:
Rishi Kapoor' is currently undergoing treatment in New York. As soon as the announcement was made, the actor who couldn't contain his excitement, shared the amazing news on social media. Hearty congratulations to Greg Cannom and his team for winning big at the 91st Academy Awards.