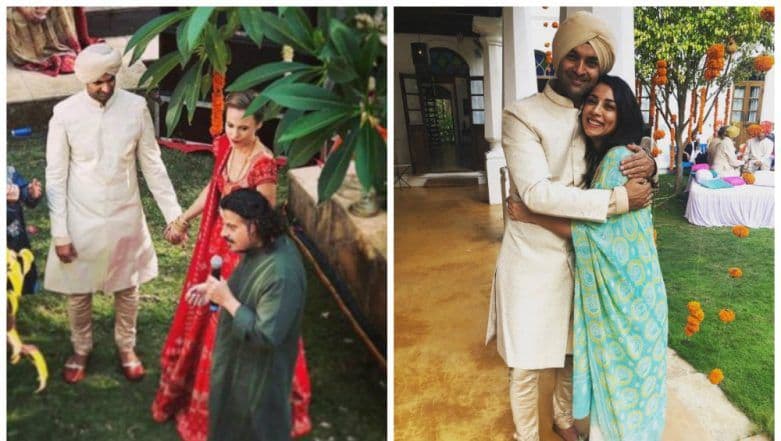 The weddings in B- town never to cease to amaze us! The starry shenanigans always grab the attention of the fans and how everyone feels the need to know every single detail of what happened at the venue! One such wedding is of Rock On actor Purab Kohli and his long- time British girlfriend Lucy Payton. The couple got hitched in Goa in vintage Portuguese themed bungalow. While Purab looked extremely handsome in an off-white sherwani, Lucy looked elegant and beautiful in a red lehenga.
The wedding was a private affair, and naturally a hush-hush ceremony with no celeb- spotting at the venue. However, one of his close friends and co-star Amrita Puri made it to the guest list of Kohli's wedding. Amrita, who essayed the role of Purab's wife in acclaimed TV series, POW- Baandi Yudh Ke, looked stunning in an aqua attire. She posted the picture on Instagram and captioned it, 'My Sartaj Singh is hitched! Congratulations to my reel life husband! Wishing you all the love in the world @purab_kohli & Lucy Kohli.'
For the uninitiated, Purab and Lucy were in a three- year long relationship and  already have a daughter named Inaya, born in 2015 out of wedlock. Talking about it, Kohli earlier told in an interview, "When Inaya was conceived, we were not married and it didn't matter to me. When Lucy called me and said, 'Hey we are having a baby,' I said, 'Wow. Let's do it.' There was pressure to get married. My mother was the most concerned and my family did say you guys have to get married quickly when she was pregnant. But I was adamant about not doing it because I never wanted my baby to feel that we got into a relationship because she was coming."
Well, there are very few who dare to break the societal norms and Purab is one of them, we can proudly say! Coming back to pictures, do let us know your take in the comments section below.