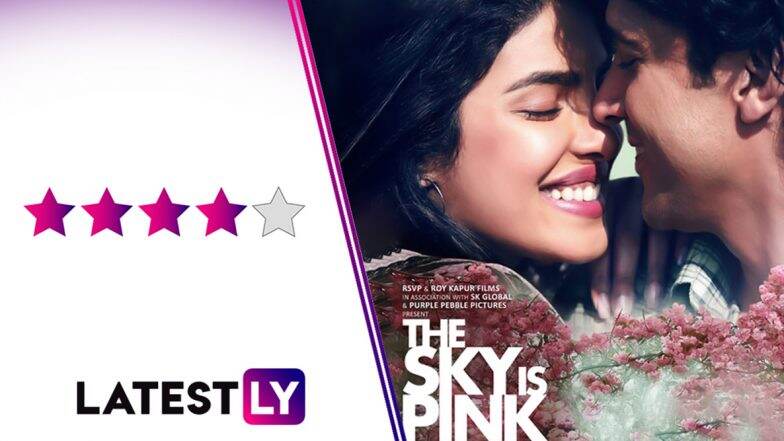 The Sky Is Pink Movie Review: Before we begin, I wasn't writing in 2014. So I am going to take two lines of this review to praise Shonali Bose's directorial, Margarita With A Straw as well. The movie starring Kalki Koechlin as a bisexual woman with cerebral palsy is one of the greatest films of our times. It is a movie with a healing effect. Now, on to Shonali's latest film, The Sky Is Pink. The film features Farhan Akhtar and Priyanka Chopra as grief-stricken parents trying to navigate life as their daughter Aisha, played by Zaira Wasim, loses her life day by day due to an incurable disease. Aisha gives it her best as the narrator of this story to make it about her parents' romance. But at the core, the movie remains about grief. The Sky Is Pink Review: Nick Jonas Is All Praises for Priyanka Chopra Starrer, Says 'The Story Is Bold and Beautiful'.
Grief is a marvellous teacher. It teaches you who you are. It teaches you what your family can withstand. It teaches you about the people around you. One moment of grief can shape the rest of your life. The Sky Is Pink talks about one of the ways of dealing with grief – run towards it and embrace it.
Priyanka's character Aditi knows her daughter is dying from side effects of chemotherapy as she pushes 18. Aditi decides her daughter should live the rest of her days to the fullest. Aditi laughs, cries, shouts her lungs out, storms out of conversations, and even has a full-fledged psychotic breakdown as she deals with her daughter's inevitable death. Priyanka digs deep into the character, not missing a single beat. She gets many moments on the screen to shine and, boy, she shines bright like the pink star in the sky.
This is Farhan's best performance after Bhaag Milkha Bhaag. From his cadence to slight twitch in the lips, as he goes through a spectrum of emotions - this whole act is perfection.
Shonali Bose has also written the film along with directing it. She keeps the film moving at a rhythmic pace. The narrative jumps back and forth in time, showing us the family's happy moments to dampen the effect of the sad ones. Melancholic moments are intertwined with comic relief. An ill Aisha calls her brother Ishaan, played beautifully by Rohit Saraf, and tells him she doesn't want to die. Ishaan assures her that the entire family will soon follow her. He asks his sister to come back the next time as their family dog, so all she has to do is eat, sleep, poop and bark a little. But as soon as he hangs up the phone, he breaks down. BTW, Bollywood needs to invest more in Rohit.
Shonali's storytelling is charismatic. The Sky Is Pink is as much about the small moments as it is about the big ones. Aditi asks Farhan what would they do with their daughter's clothes once she dies. This is a depressing but simple question that most of us have never bothered to think about.
You have to keep your eyes open to spot the pretty detailing in the film. Farhan's Niren wears his cardigan inside out in one scene as he hastily rushes his wife to the hospital. Rohit's Ishaan runs to the train station to catch a train and then deliberately misses it to talk to his sister on phone.
The title is one of the most well thought out names for a film in Bollywood. There is an entire scene explaining the ideology behind, which will hit you in the guts.
Despite asking to embrace grief, the film leaves room for people to deal with the emotion in their own way. Farhan's character takes a very different route than Priyanka's to deal with the same situation. Also, how they keep their love afloat in these testing times make this one of the best romances to have come in a long time in Bollywood.
Watch Priyanka Chopra Talk About The Sky Is Pink Here in This Exclusive Interview:
Yayy
- Priyanka Chopra and Farhan Akhtar are pure perfections.
- Comical moments are in plenty.
- And so are emotional moments that will make you think about life.
Nay
-Zaira Wasim might not have been the perfect choice for the role. She doesn't deliver in quite a few scenes.
- Songs, though only playing in the background are hinderance.
Final Thoughts
The Sky Is Pink is a beautiful, beautiful ode to grief. It is a movie you should not miss at any cost. Priyanka and Farhan are a delight to watch. Shonali's film will make you laugh, cry and make you think about life, while keeping you thoroughly entertained. What else do you want from a film? Highly recommended.