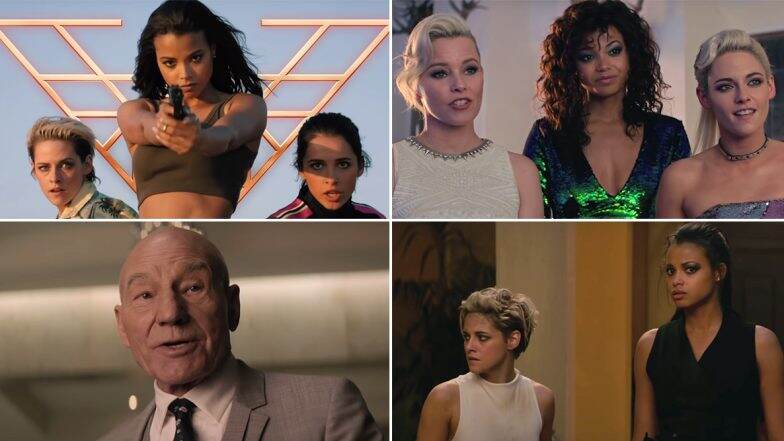 A new trailer of Charlie's Angels starring Kristen Stewart, Naomi Scott, and Ella Balinska already impressed us with its first trailer. The trailer looked super sleek and high on style and it certainly made us feel that we deserved this Charlie's Angels spin. A new trailer of the film has now dropped and it will impress you further. The new trailer gives us an extended look at the film's action and comic scene and promises to turn out completely entertaining. Charlie's Angels Trailer: Elizabeth Banks' Action Comedy Starring Kristen Stewart, Naomi Scott, and Ella Balinska Looks Terrific.
The interesting part about this film is that it's not a reboot or a remake. It has been revealed by the makers that the movie will take forward the story of the 2000's films and the 70s TV show. In the film, we will see Elizabeth Banks in the role of Bosley in Charlie's Angels, but she's not the only one. There will be multiple teams of Angels working under multiple Bosleys around the world and hence we also get to see the amazing Sir Patrick Stewart and Djimon Hounsou play two other known Bosleys in the film.
Check Out the New Trailer Here:
The film also stars Sam Claflin, Noah Centineo, Luis Gerardo Méndez, Jonathan Tucker, Chris Pang, and Nat Faxon. In this new trailer, we get to see all the badass stunts pulled off by the Charlie's Angels and there's a string of undercover avatars that they go through. The screenplay has been penned by Elizabeth Banks from a story by Evan Spiliotopoulos and David Auburn.
The official synopsis reads, "In Banks' bold vision, Kristen Stewart, Naomi Scott, and Ella Balinska are working for the mysterious Charles Townsend, whose security and investigative agency has expanded internationally. With the world's smartest, bravest, and most highly trained women all over the globe, there are now teams of Angels guided by multiple Bosleys taking on the toughest jobs everywhere."Charlie's Angels is all set to release on November 15, 2019.