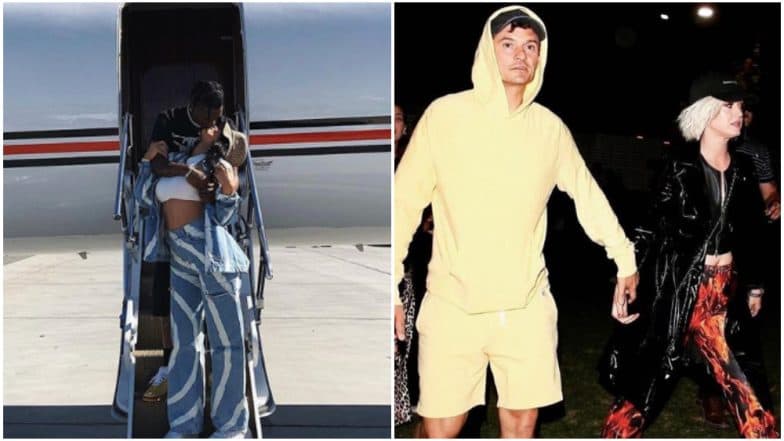 The first weekend of Coachella Valley Music and Arts Festival has kicked off and we are already tripping on the fashion and musical extravaganza. It has been a delight to watch our favorite celebs take dress-up in their most unconventional selves and enjoy some of the hottest performances of artists including Black Pink, DJ Snake, Selena Gomez and more. Coachella is considered to be one of the most-talked-about events where who's who of Hollywood and Artists from the industry turn up. For many celeb couples, the even has turned out to be yet another chance to flaunt their love and show some serious PDA.
Coachella is a special event for Kylie Jenner and Travis Scott who first romantically linked together at 2017 festival. Two years and child later, the couple are still going strong and on Saturday, Kylie posted an Instagram photo of the couple sharing a lip lock while standing in front of a private plane. This certainly made everyone go 'aww'.  Selena Gomez Surprises Fans With Her First Ever Coachella Performance Along With Cardi B and DJ Snake - View Pics!
Here's Kylie Jenner and Travis Scott's liplock from Coachella 2019:
View this post on Instagram
Well, Kylie and Travis weren't the only couple who started off the festival with some steamy PDA. Giving them stiff competition was also Twilight star Kristen Stewart who was snapped snogging her girlfriend Sara Dinkin during the festival. Kristen and Sara look madly in love and we cannot wait for more pictures of them. Reports about the two being in a relationship first started back in December 2018. Looks like the duo made it official with this kiss.
Here's a picture of Kristen Stewart and Sara Dinkin's cute moment:
We are still not done talking about the PDA at this year's Coachella. Newly engaged couple Katy Perry and Orlando Bloom too rank high on PDA alert. The couple could hardly take their hands off each other. In one of the pictures, Orlando was even seen grabbing Katy's butt while the two shared an intimate kiss.
Check out Orlando Bloom and Katy Perry's 'Handsy' PDA:
We have to say, this is just the beginning. Coachella 2019 is yet to create more ripples as artists will turn up in their weirdest outfits, and we are also yet to see some sizzling performances from singers such as Arianna Grande and many more. In the meantime, we'll keep you updated on all the fun things about this year's festival.