Knock at the Cabin Movie Review: When it comes to the classic subversion of tropes we expect in M Night Shyamalan's films, Knock at the Cabin never goes for that goal-post which, oddly enough, feels a subversion in itself. Of course you have a plot relating the inevitable end of the world (or is it actually ending?), while an innocent family is forced to make some really hard decisions – the movie packs in all the idiosyncrasies of the director, yet it never really goes deep into its potential and rather opts for a more straightforward narrative. The Whale Movie Review: Brendan Fraser's Devastating Performance is Marred by an Inconsistent and Cynical Script (LatestLY Exclusive).
Adapting the book, The Cabin at the End of the World by Paul G Tremblay, one would think that M Night is right at home following this ambiguous plot that asks some hefty questions to his audiences. Wasting no time in its setup, the film begins with Wen (Kristen Cui), the young adopted daughter of Andrew (Ben Aldridge) and Eric (Jonathan Groff), having a jolly good time at her vacation cabin catching grasshoppers before being approached by an intimidating-looking stranger named Leonard (Dave Bautista). Soon he is joined by three more people with weapons (the quartet making for the Four Horsemen of Apocalypse) and they take the family hostage.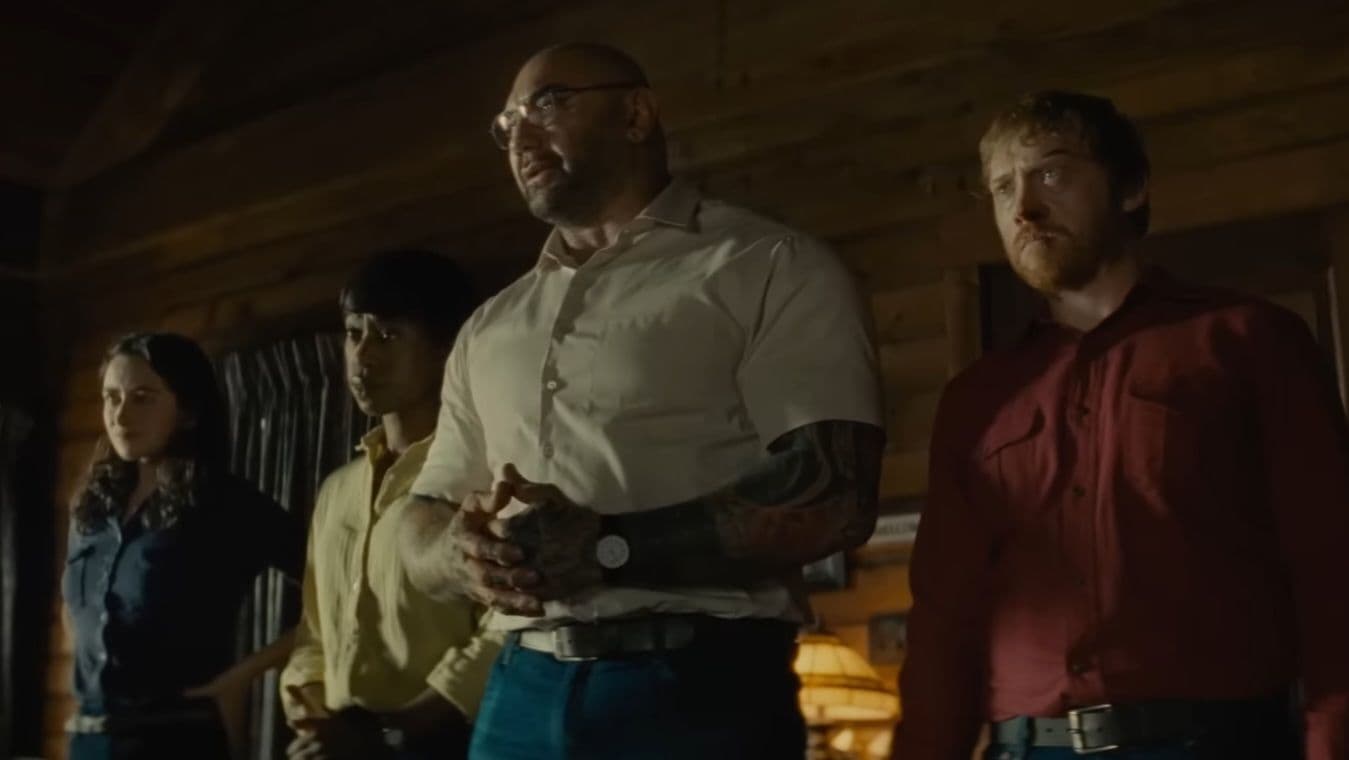 Knock at the Cabin has a plot that Shyamalan was born to make given how he is known to incorporate a lingering sense of dread in his movies, and yet somehow he didn't manage to nail the landing. Knock at the Cabin creates for a conflict that works best while watching. There is no denying that Shyamalan's direction shines here through a steady buildup of tension and inspired camerawork that help in creating and building tension; where it unfortunately lacks is how it explored its plot itself.
Watch the Trailer for Knock at the Cabin:
For a first viewing, I won't deny I was entertained while watching it; the issue that came when I let the experience simmer in my head though for a bit. What Knock at the Cabin fails at creating is ambiguity. In the beginning of the film, the ambiguity raises its head when you question whether the apocalypse is real or not, but in the fashion of modern Shyamalan, he opts to over-explain stuff rather than letting you make your own conclusions. The film just lays out all of its answers for you.
The entertainment factor however feels amplified by its performances where Dave Bautista continues to prove why he is one of the best wrestler-turned-actors. Playing the role of a gentle giant trying his best to reassure this family that he has 'noble' intentions while wielding a pick-axe, this is a great dramatic turn for Bautista. Jonathan Groff and Ben Aldridge also make the best out of their moments as a couple who think there is a homophobic attack being played out on them, while Kristen Cui leaves an impressionable child-performance.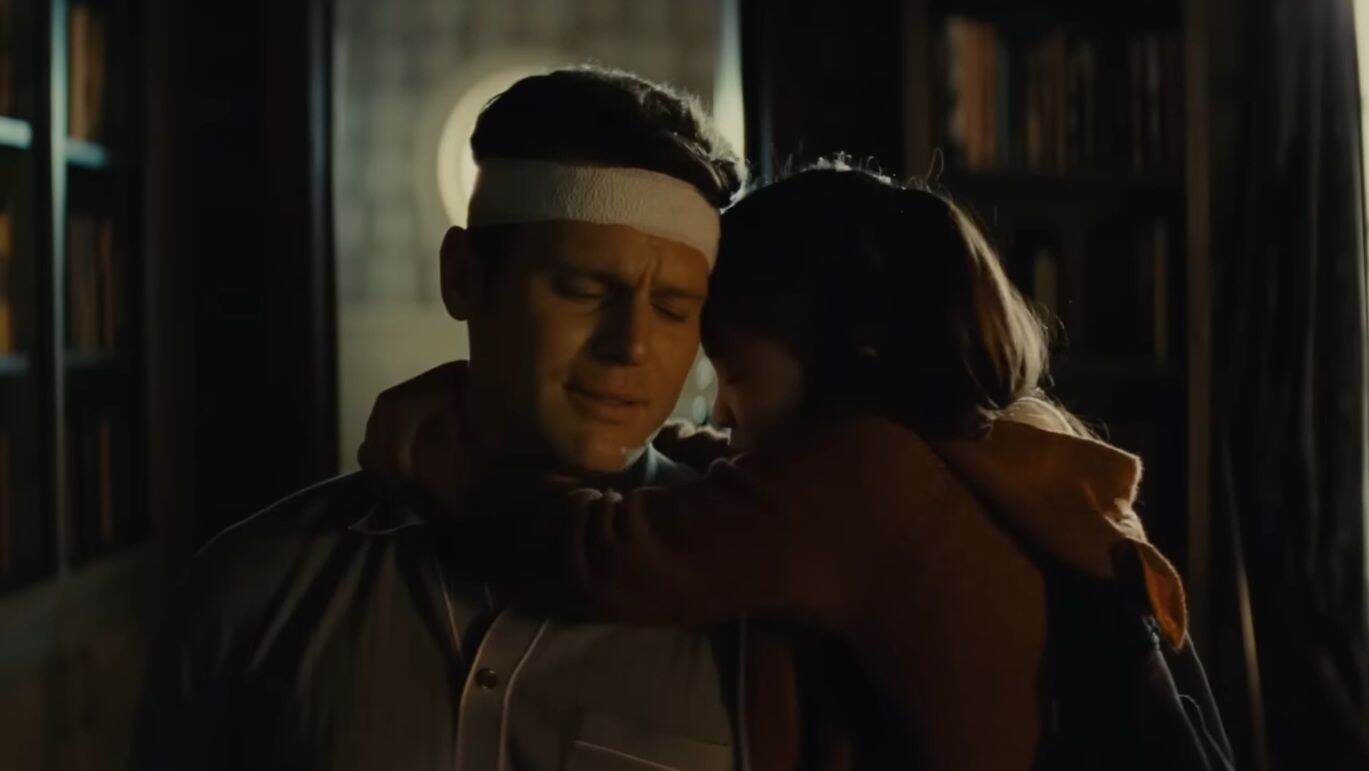 The remainder of the cast impresses too (though Rupert Grint feels severely underused), but unfortunately these characters do not resonate that well with you. Aside from the main family (whose backstory was also filled out in some weirdly placed flashbacks), Knock at the Cabin does very little for character development. The Woman King Movie Review: Viola Davis' Film Packs in Enough Hard-Hitting Action with Some Gripping Melodrama (LatestLY Exclusive).
Knock at the Cabin also feels like it's constantly building up to a grim ending of biblical proportions and while you get hints of those throughout the movie, the film fails in making for a more impactful conclusion. There are hard decisions made by the characters here, but it never feels like a monumental undertaking that would leave a lasting impression. Guess that was the Shyamalan twist all along. Also, a sidenote, DO NOT watch the second trailer considering it will spoil the film for you.
Yay!
Dave Bautista's Dramatic Turn
The Camera Work
Nay!
Lacks Ambiguity
Ending
Final Thoughts
For better or worse, Knock at the Cabin very much feels like a M Night Shyamalan film even without the perfunctory end-twist. While viewers might enjoy the very straightforward story, personally I yearned for a deeper evaluation of the human psyche given the source material we were dealing with over here. The plot had some nice groundbreaking potential that Knock at the Cabin sadly didn't live up to. The film is playing in theatres right now.
(The above story first appeared on LatestLY on Feb 03, 2023 09:35 PM IST. For more news and updates on politics, world, sports, entertainment and lifestyle, log on to our website latestly.com).