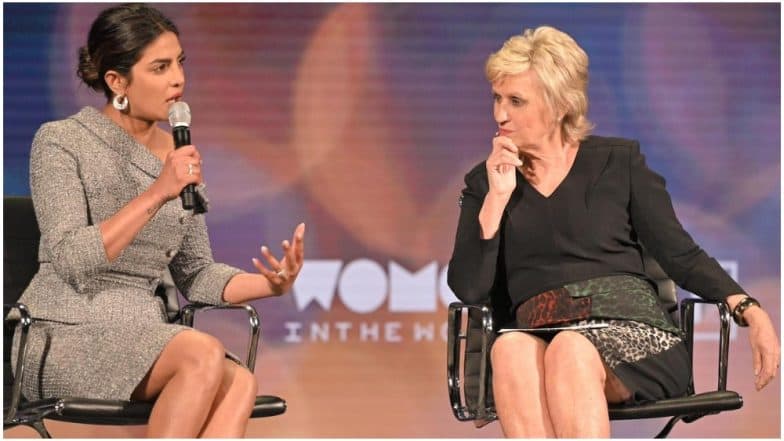 The Me Too movement was started by Tarana Burke in 2006, to help the ones who have faced sexual harassment. It gained momentum when women started speaking about it being fearless. There have been many celebrities and personalities from across fields who came forward and opened up about the sexual violence they faced and why remained mum all the while. When Bollywood actress Tanushree Dutta shared her story, it triggered across the country and it was Priyanka Chopra Jonas who extended her support to the actress through social media platform. The global icon spoke about on the #MeToo Movement, women facing sexual harassment at the recently held 2019 Women in the World Summit at New York. Priyanka Chopra Jonas Talks About Feminism at 2019 Women in the World Summit.
The 2019 Women in the World summit is an annual gathering where women from various fields share their stories, to bring a change and a solution to the ongoing issues in the world. And one of them who shared the stage with the founder of Women in the World, Tina Brown, was the global icon Priyanka Chopra Jonas. The actress spoke about her personal life, career and numerous other concerns. She also raised about the grave issues faced by every women in every country.
At the 2019 Women in the World summit Priyanka Chopra Jonas stated, "Sexual harassment had become a norm with women. Now because of the support we are giving each other, people don't have the power to shut us down. We always had a voice. Just nobody heard us. Now because of the support we are giving each other, nobody can shut us down. And that's an incredibly powerful thing to see. Now if I have a story I don't feel I am alone anymore – and I am not ashamed of it." Priyanka Chopra on Hosting Met Gala Benefit 2019 with Nick Jonas: It's an Honour.
Priyanka Chopra Jonas who was glad to be a part of the summit had also shared the pictures on her social media handle. The actress has definitely made everyone proud not just in terms of work but also by being vocal about various issues happening in the world. She is one of those celebs that every young girl look up to.