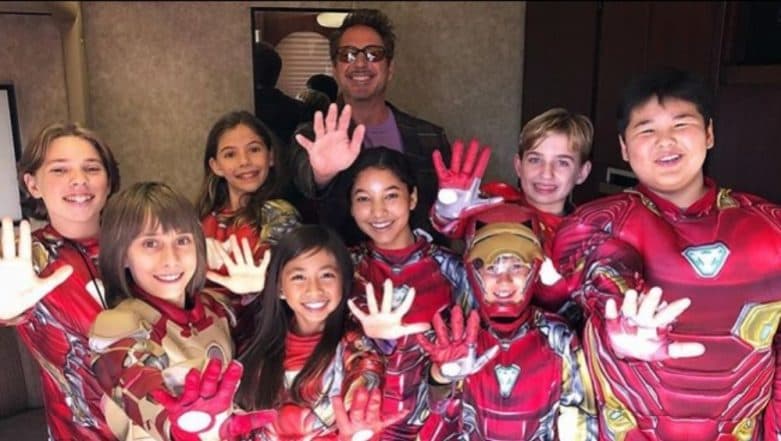 Robert Downey Jr has a formidable force of Iron Youth who love him 3000! At the 2019 Teen Choice Awards which was aired on Fox on Sunday, the actor won Best Action Movie Actor for Avengers: Endgame. It is not really all that surprising since his moving performance did leave a lot of fans teary-eyed. Not to mention, how it was the end of a legacy. To celebrate Downey Jr's big win, a group of teens donning Iron Man suits walked on the stage as he accepted his award. You heard that right! The actor was greeted with an Iron Force as he accepted the award at the Teen Choice Awards. Robert Downey Jr Falls For Joker's April Fools' Prank! Google India Tweets Video of Marvel's Iron Man Taking on DC's Supervillain in Biggest 'Crossover'
Capturing this legendary moment in his camera, Robert Downey Jr shared two videos and a picture on Instagram. He captioned the post as, "Thanx guys what a blast !! The Iron Youth are a formidable group and the Stark legacy is in more than capable hands... #TeamStark #thankyou @marvelstudios #MCU @teenchoicefox #hair @davynewkirk #style @jeanneyangstyle" Hands down, the coolest thing that could ever happen on an awards show! After Avengers: Endgame, Robert Downey Jr aka Iron Man is Doing This!
In fact, later, Downey Jr even celebrated the birthday of one of the teenager's who was part of the Iron Man entourage. The cutest bit about the caption was how the actor wrote #I♥️U3000. Oh well, we do love you 3000 Robert Downey Jr aka Tony Stark aka Iron Man! Anyway, check out the adorable post below as well as the videos.
Avengers: Endgame sure won several accolades at the Teen Choice Awards this year. Right from taking home the Best Action Movie to Best Action Movie Actor and Actress (which went to Scarlett Johansson), the Marvel film surely saw a lot of love from the teens! Perhaps all the following award shows will be just as loving towards Avengers: Endgame as the teens have been. Or so we hope!