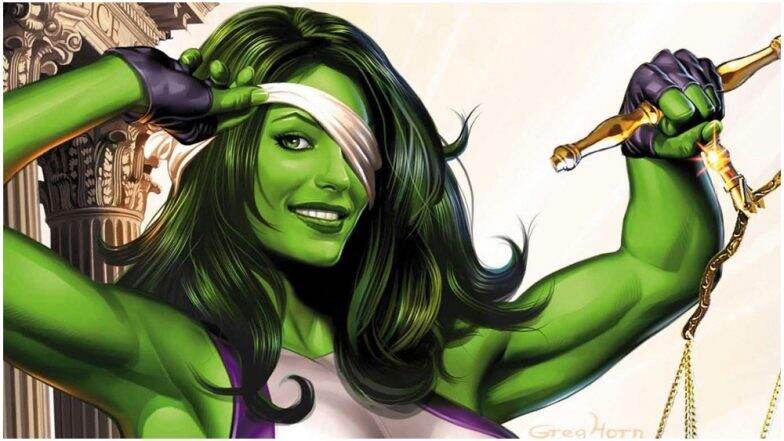 Who expected the Phase 4 of Marvel Cinematic Universe to remain the same as what was announced during San Diego Comic-Con 2019? We didn't, and now we have three more series lined up in the upcoming MCU phase. At the D23 Expo in Anaheim, California, Marvel Cinematic Universe chief Kevin Feige announced that popular Marvel superheroes like She-Hulk, Ms Marvel and Moon Knight will be making their debut on Disney Plus with their own shows. Marvel Studios Set to Introduce First Muslim Superhero 'Ms. Marvel' With Kamala Khan.
This announcement has sent ripples of excitement among the Marvel fans, as they have always been clamouring for these superheroes to have their own cinematic adventures. Feige has confirmed that the shows will be in line with the MCU timeline, though he hasn't given any further details about the casting, the director and when it will stream on Disney Plus.
So in case, you are a Marvel novice, here's a little trivia about She-Hulk, the new superhero who is soon to make her debut soon.
Who is She-Hulk?
She-Hulk, created by Stan Lee and artist John Buscema, is actually the cousin of Bruce Banner aka The Hulk, and as per comics, it is Banner himself who is the reason why She-Hulk came into existence. Before the mutation happened, She-Hulk was just Jennifer Walters, the shy daughter of a county sheriff.
During an attack from a mob whose leader her father has pissed off, Jennifer was seriously injured. During surgery, the doctors couldn't find the right match for the rare kind of blood type that she possesses. The only donor they could find was Banner, who is already struggling about his alter-ego The Hulk.
Reluctantly to save her life, Banner gives his blood to save his cousin, and in the process, also transfers his mutation in that transfusion. So Jennifer Walters becomes her own version of the Hulk, though she wasn't as powerful as Banner's Hulk. Jennifer uses her powers to take down the mob that was responsible for her present condition.
However, unlike Banner who mostly couldn't come in terms with The Hulk (till Avengers: EndGame happened), Jennifer easily embraced her Hulk personality and completely took control over her (a female equivalent to Professor Hulk). In his greenish avatar, she discarded her shy persona and became a hotshot lawyer, while also being a vigilante.
As a superhero, she has been a part of groups like The Avengers, the Fantastic Four, the Defenders, and even the S.H.I.E.L.D. In the comics, she even teamed up with her cousin to fight bigger villains. Any bets that Mark Ruffalo's Professor Hulk would appear in the series and then kind of pass on the wagon to Jennifer Walters?