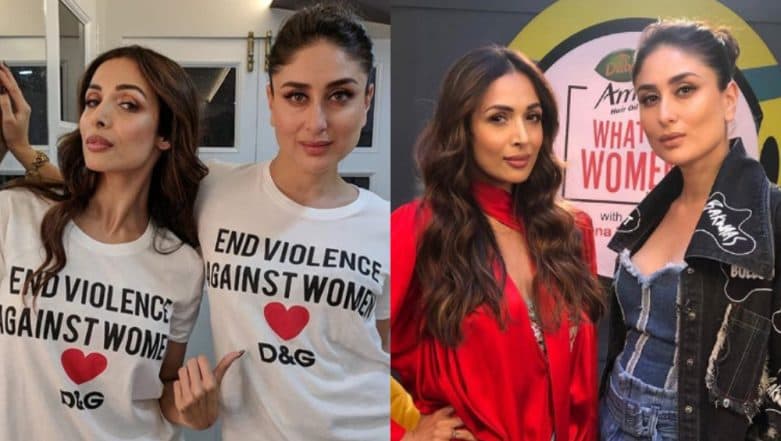 Kareena Kapoor and Malaika Arora are good friends. In fact, if their latest picture together is to go by they even think exactly the same. So much so, that they ended up twinning when they met at a shoot. Malaika took to her Instagram page to share a picture of this happy coincidence. Both the ladies were wearing white Tees with a strong message printed on it. "End violence against women," the text on the two T-shirt reads. Malaika reveals in the caption, "Wat a coincidence !!!!!! When the gfs dress the same to work ,coz we gurls think alike (sic)" Kareena Kapoor Khan Picks a Sky Blue Layered Gown for an Event in Chennai and There's Nothing Right With Her #OOTD.
These special Tees are made by Dolce and Gabanna. Kareena and Malaika's mutual love for D&G and feminism surely played a role here. Check out the really cool pictures below:
It did not netizen much time to figure out that the two Bollywood babes had met each other to shoot something special together. Malaika is the next guest on Kareena's radio show What Women Want. Earlier, we have seen Kareena chat up with Amrita Arora, Mallika Dua, Sunny Leone, Masaba Gupta, Manish Malhotra, Karisma Kapoor on her show. Kareena Kapoor Has Something in Common With Joey Tribbiani and We Can Relate to It On So Many Levels!
View this post on Instagram
We are looking forward to what Malaika brings to the table. For now, we are still crushing over their twinning moment and just how cool they are with it. So far, we have only heard ladies getting upset because someone at the party was wearing the same dress as them.