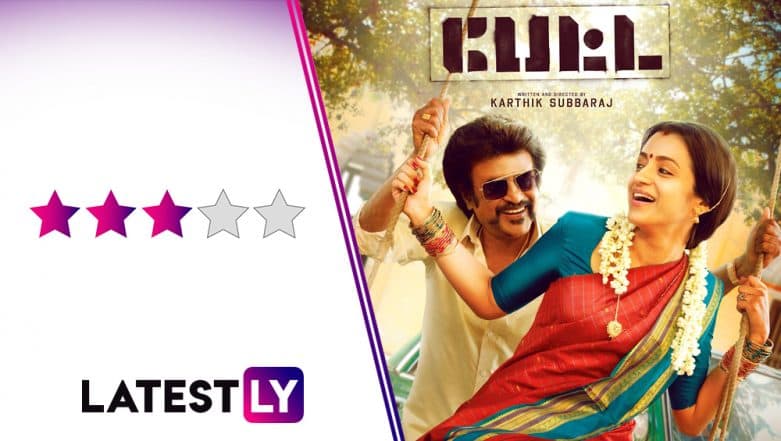 What makes Petta different from Rajinikanth's previous films that have been coming out in the past couple of years? Kabali and Kaala were tailored to suit Rajinikanth's age and superstar charisma and yet they felt like precursors to his political ascension. 2.0 was more of a Shankar spectacle that benefits from the presence of Rajinikanth. Petta, however, returns him to those massy roles that made him such a blockbuster success in the '90s (a feat his 2015 film Lingaa failed and failed). Another exciting factor about Petta is that it is directed by Karthik Subbaraj, a clever film-maker with gems like Pizza, Jigarthanda and Iraivi to his credits. So can Petta bring Thalaiva fans the joy of enjoying his superstardom essence to the fullest? Petta Trailer: 5 Reasons Why The New Promo Has Made Us Super-Hyped For This Rajinikanth Pongal 2019 Release!
Kaali (Rajinikanth) comes to work in a college as their temporary hostel warden, a job that he pulled strings to get for himself. On the first day itself, he drives away the ragging hooligans led by a rich brat, Michael (Bobby Simha). He brings a lot of good changes in the hostel arena, while taking a particular interest in a boy, Anwar (Sananth Reddy) who stays in the hostel. Kaali also helps Anwar in his romance with his girlfriend (Megha Akash), while he himself gets close to her mother (Simran).
One day, some goons attack and try to kill Anwar, and Petta saves him. In the process, the layers of secrecy that had shrouded his past gets peeled off. We find out more about how the man, who was once known as Petta, became Kaali and what's the link between him and a UP-based political kingpin Singaar Singh (Nawazuddin Siddiqui) and his hooligan son, Jithu (Vijay Sethupathi). Nawazuddin Siddiqui Joins Rajinikanth, Vijay Sethupathi's 'Petta' and Fans Are Going Crazy Over This Deadly Combo! (View Pic).
During a fight scene at the start of the film, Rajinikanth bashes a goon, who had just struck him down a few minutes back, looks at the screen and quips, 'You didn't expect me to come back, did you?'. Even it was meant for his assailant, we know that it is a meta-commentary for his detractors who are doubtful he can get back his old mojo.
In Petta, Rajinikanth achieves that. Well, nearly.
When you walk in to watch a Rajinikanth film what do you expect the movie to offer you? Rajinikanth in full swagger? Whistle-worthy scenes? Marana mass dialogues? In short, you expect the movie to get you, well... what's the term they are using these days... oh yes, Rajinified! If that is your expectations from Petta, then this one ticks all the boxes here.
The first half, especially, is highly entertaining even when it craves for a dire need of trimming. It is pure fun to see Rajinikanth having so much fun with his role, and the audience also enjoys watching him pull out that strut and dishes out punchlines at every turn. That was one issue that I had with 2.0; Thalaiva was burdened with some very bad puns for dialogues. Not so much here!
Rajinikanth also gets to do a lot of humour bits, more than his recent movies. His comic flair is a trait that had also helped his bigger hits get endeared to the masses, and Karthik has put that to great effect here. Even though his age feels very evident, the director has presented him so stylishly that it doesn't stick out or feel very unbelievable when he packs many a punch to the villains. Some of the credit also goes to the action director, an in-form Peter Hein, who has crafted fight sequences that suit Rajinikanth's body language. And definitely, a round of cheers for the makeup team as well! Anirudh Ravichader's score is quite pleasing, while Tirru's cinematography adds a lovely hue to the proceedings.
One more thing I am quite grateful to Petta is that it isn't steeped in political influences like Kabali or Kaala, though moral hooliganism and beef politics do find a place here.
So, all in all, if you are a Rajinikanth fan, there is perhaps a lot for you to cheer for you in Petta, since Shankar's Sivaji.
Then, Petta is not just a Rajinikanth film. It is also a Karthik Subbaraj movie. And in this aspect, things start floundering.
Don't get me wrong! It is Karthik Subbaraj's deft execution which makes Petta so watchable in the first place, even when the narrative loses its grip. The director knows what is it about Thalava that appeases to his fans and tailors the film accordingly. But in the process, some of his own clever flourishes are underutilised.
It's not that Petta is bereft of KS gems - a three-way conversation between Michael, his father and his mother will bring the house down, and so does a market fight scene involving Kaali. The flashback sequence has its moments, with a twist that plays towards the end, though it isn't as clever as Pizza's reveal or Jigarthanda's final deception.
Karthik is also let down by the scriptwriter in him with a story that is so derivative of Rajini's previous films like Baasha and even Kabali. Nothing wrong in playing tribute to superstar's old films, but a fresh spin could have made Petta far more memorable.
And there is the length. At two hours fifty-two minutes, Petta overstays its welcome, especially in the action-packed second half, though things pick up in a very engaging climax.
Karthik Subbaraj also doesn't use his terrific supporting cast well. Most of them are either used as props to elevate Rajinikanth's masochism, or else, get pretty little to do. Both the antagonists, Singaar and Jithu, get a better scope in the second half, but they never feel like a real threat to the infallible hero. Considering that the characters are played by two of the finest actors in Indian cinema, this is a big letdown.
Watch the trailer of Petta here - 
The Performances
Rajinikanth is awesome, no two words about it! Retaining some of his classy mannerisms that made him such a hoot with his fans, Rajinikanth brings so much charisma into the role that you just can't take your eyes off him. Whether it is shaking a leg to "Marana Mass" song, or giving flirty glances to Simran or retaining his swag while hitting the goons, the man is at complete ease here!
Vijay Sethupathi is the actor in the cast who is closest to Rajinikanth in leaving in an impact, followed by Nawazuddin Siddiqui (with a dubbed voice and some lip-sync issues). However, it is more due to the fact that they are terrific actors and less to do with their roles. Their characters offer them little scope to exploit their potential to the fullest.
Both the female leads, Simran and Trisha, are more of glorified cameos. Trisha's role has some importance to the story, while Simran's could have been easily excised and it would hardly matter to the plot. Then, it would rob us of the opportunity to see Thalaiva's romantic side! Bobby Simha has a couple of moments to shine in his under-written character. M Sasikumar, Munishkanth, Malavika Mohanan, Guru Somasundaram, Aadukalam Naren, Sananth Reddy, Megha Akash, Manikandan Achari et al are just about decent.
Yay!
- Rajinikanth
- The Direction
- Some Mass Moments
- Performances of the Cast
- Action Scenes and Music
Nay!
- Subbaraj Underutlises Himself
- Also, the talented Supporting Cast
- The Plot is The Usual
- Too Long and Rolls in Excesses
Final Thoughts
Petta has its issues, primarily being its length and how some of the supporting cast is utilised. That said, this is the most fun I had watching a Rajinikanth movie in recent times. Petta gives you enough reasons to buoy up your spirits if you are a Thalaiva fan, considering if you reign in some of that burgeoning expectations. Get ready to be Rajinified!