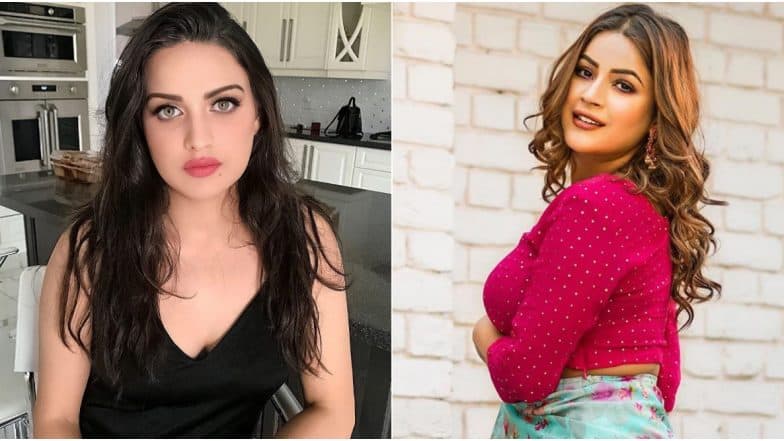 Bigg Boss 13 is all set to go through a major change in the format. Five weeks down, the show will now see the entry of 6 new contestants and eviction of three from the existing lot. One of new wild card contestants is Punjabi actress Himanshi Khurana. Hailing from the same film industry, Himanshi has quite a history with Shehnaaz Gill. Turns out, the two actresses are open and vocal arch rivals. A video where the two ladies are hurling abuses at each other is pretty viral on social media platforms and YouTube. Shehnaaz is coming across as extremely cute on the show so far. But there is more to her devious personality, as per Himanshi.
In an EXCLUSIVE interview with LatestLY, Himanshi said she is feeling nervous and excited at the same time before entering the house. She revealed that she was in talks with the Bigg Boss makers for a long time, and after their fourth conversation is when the offer came through. When asked about her fight with Shehnaaz, the new contestant began, "The reality is that on January 14, I released a song called, I Like It. I flew to Canada a day after the release," Bigg Boss 13: Hindustani Bhau Wants to Tell Paras Chhabra, 'Pehli Fursat Mein Nikal Le'.
"Shehnaaz, I don't know if she did it on purpose or what, but she made very crass comments at my song along with her makeup artist. Along with the song, Shehnaaz also made remarks at my parents. It was disgusting what she said. She body shamed me. I underwent a surgery back then and my  body weight was more," she added.
Himanshi continued, "I ignored it. I didn't know her and no one knew her in the industry at that time. But she kept stretching it for one week. She targeted me through a meme page. She came LIVE on the page and abused me. She hurled dirtiest of the abuses at me and kept laughing,"
"It was trending so much and media pushed it so much, that I had to give it back to her. She said things about my parents' character," Himanshi further added.
Talking about her reaction video to Shehnaaz, which is viral on YouTube, Himanshi said, "I only replied her once. The entire Punjabi film industry and fans had bashed Shehnaaz. She was boycotted by the A-listers. No media publication interviewed her except for one, which also was a random YouTube channel. If you watch that interview even today, you won't be able to bear it. Disgusting words, she has said,"
Here Are The Videos of Shehnaaz Gill And Himanshi Khurana Hurling Abuses At Each Other:
When reminded that Shehnaaz is coming across as 'cute' on Bigg Boss,  Himanshi said, "That is her game plan. And I will appreciate her for this strategy,"
Himanshi added, "But the thing is she has gone individual right now. She is only being known as Shehnaaz Gill and not as a rival of Himanshi Khurana. But that is only half the reality. When I go there, her real side will expose itself, maybe just by my presence."
Seems like things are going to heat up inside the Bigg Boss 13 house with Himanshi Khurana's entry. We might get to see an entirely new side of Shehnaaz Gill's personality. Are you ready for that? Stay tuned with us for more updates.