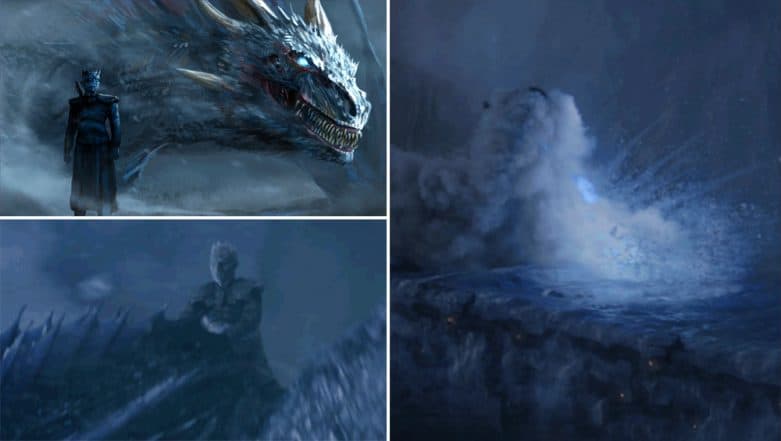 The season 7 finale of Game Of Thrones is something that ardent viewers of the show remember very vividly. While the show's storyline is undoubtedly edge of the seat, what we knew was coming but hoping would not happen, was the fall of the great night's watch wall. And what broke our hearts, even more, was that it was Viserion, the (white) dragon that did the deed. And while its mother Daenerys (Emilia Clarke) still has no clue that her baby is alive and evil now (pouting big time here), we're sure she will be shell-shocked to see it. Game Of Thrones Season 8 First Footage Is Out: Is it Sansa vs Daenerys? Come Soon, April 2019! WATCH The Teaser NOW!
For those who have forgotten or not seen the show, the seventh season's finale of Game of Thrones ended with the Night King and his army attacking the wall that stood guard for almost 1000 years. While everyone liked to believe that the wall would sustain, the entire season was filled with subtle hints of how the wall may not live to see another season (pun intended). Sophie Turner Leaks Game of Thrones 8 Ending, Is Future Sis-In-Law Priyanka Chopra One of The Lucky Few?
And while many were left distraught to watch the wall be taken down by the now zombified Viserion, this video of how the makers shot the entire battle sequence will lighten up your spirits and you'll thank the men behind the scenes for treating us to something as spectacular as that sequence. Watch the video below:
With the wall now gone, there literally stands nothing between the Night King's Army and the Kingdoms up North. And while that is the story for another time, at the recent Golden Globes Awards Ceremony, HBO released a commercial that contained short clips of all of their upcoming series and the GOT clip was all we could focus on.
Game of Thrones is all set to return this April with its eighth and final season, which will have only 6 episodes of approximately 80 minutes each. Season 8 has been in the making for 2 years now, with time to time updates on how the makers have shot multiple endings for this season to avoid any leaks. Also, the makers, as well as the cast, have remained extremely tight-lipped on the fate of characters in the last season.