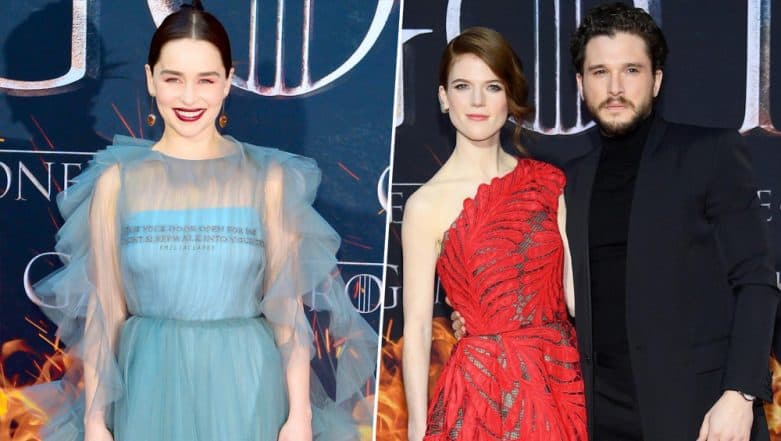 The HBO series, Game Of Thrones is al set to release its final season on April 14. Ahead of the release, a premiere event was held in New York which was graced by the stellar cast of the series including the likes of Kit Harrington, Sophie Turner, Maisie Williams, Peter Dinklage etc. Unfortunately, actress Lena Headey who plays Cersei Lannister in the series was not in attendance owing to ill health. The premiere event was also graced by the most important 'Iron Throne' as a giant Iron Throne was placed at New York's Rockefeller centre in New York ahead of the event. The premiere was also attended by the Game Of Thrones author George R R Martin.
Fans have been eagerly waiting to catch a glimpse of Season 8 and after waiting for two years, a few weeks seem to be more difficult to get through. If you are a GoT fan, this is probably not a good time to surf Reddit since there are too many people to post spoilers. Game of Thrones Star Sophie Turner Shows Maisie Williams aka Arya Stark Her Bollywood Dance Moves From Nick Jonas-Priyanka Chopra's Wedding! Watch Video.
While the premiere was a star-studded affair, Sophie Turner stole the show, looking like a million bucks in a gorgeous black dress. No doubt, the Mother of Dragons, Emilia Clarke too looked beautiful in a ruffled gown.
Emilia Clarke:
The Mother of Dragons. #GameofThrones #GoTPremiereNYC pic.twitter.com/z6tooVyfxR

— Game of Thrones (@GameOfThrones) April 4, 2019
Sophie Turner and Maisie Williams:
Welcome to Glamstone.

Follow @GameofThrones on @Instagram for more from the world premiere in New York City: https://t.co/VlQF2JNgjZ

📷: @marklphoto #GoTPremiereNYC pic.twitter.com/kR6jlFROoK

— Game of Thrones (@GameOfThrones) April 4, 2019
Kit Harrington and Rose Leslie:
You know nothing. #GameofThrones #GoTPremiereNYC pic.twitter.com/LAPJALRSwH

— Game of Thrones (@GameOfThrones) April 4, 2019
The Iron Throne at New York's Rockefeller Centre:
Pedro Pascal (Oberyn Martell) and Thor Bjornsson (Mountain) recreate their iconic scene pose:
View this post on Instagram
Nikolaj Coster-Waldau and Gwendoline Christie at the premiere:
We have to say the best part about the premiere was also to see all the actors who exited the show after their character deaths in the series. Especially, Sean Mark Bean who played the beloved Ned Stark was present at the premiere and we were thrilled to see him. Game of Thrones Season 8: Sophie Turner Opens Up About Pay Disparity, Says Kit Harington was Paid More Than Her
Overall, the fan vibe at the event seemed to be highly loving towards the Starks and it looks like Jon Snow may be the most favoured contender for the throne. Who would you want to see on the Iron Throne?