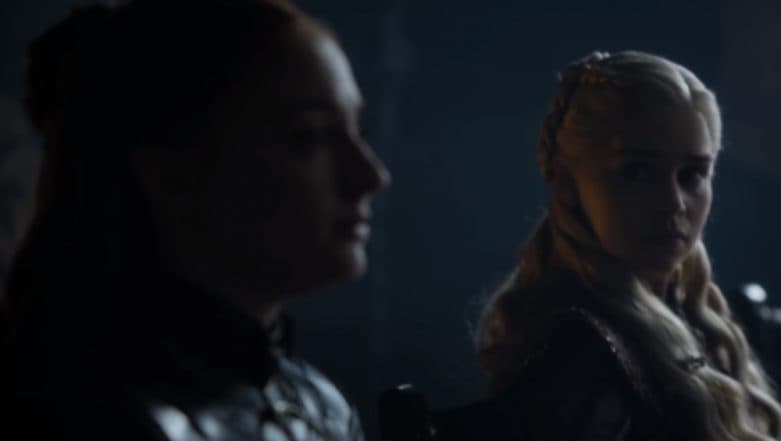 We can safely say that the first episode of Game of Thrones 8 is a huge success. All the top trends on the internet right now are about the show including platforms like Google Trends, Twitter, Instagram. The first episode was quite a joyous ride. And from the looks of it, the second episode is only going to spice things up. Yes, we have our first look at the second episode of the final season of Game of Thrones. The first promo is out and after watching it, you will struggle to contain your excitement. And even fear for the life of your favourite characters. [SPOILER] Game of Thrones Season 8 Episode 1: First Nude, Foursome Scene of the Season Overjoys Twitter.
Cersei is a nutjob. This has been established quite early on in the series. But here we are again in Game of Thrones season 8's second episode, still talking about bad exactly Cersei is. Daenerys Targaryen and Sansa Stark have finally met and the two are not getting along. But chances are high that the powerful ladies might just bonder over being taken for a ride by Cersei. [SPOILER] Game of Thrones 8 Premiere: Sansa Stark-Tyrion Lannister, Jon Snow-Arya, Bran-Jaime - 5 Reunions that Steal the Show.
Also, Sansa, like a badass, finally threatens Jaime for his crimes. She tells him that all the Starks children have spent their time growing up imagining the things they'd all do to him. We are looking forward to these things.
Watch the Promo of Episode 2 of Game of Thrones 8:
Death is right there at the door of Winterfell. Jon Snow is informed that they only have a night's time to prepare their defences against the Night King's army of the undead which is on its way to the kingdom. Arya Stark is looking forward to seeing this face of the dead as she has seen many but nothing like this one before.
Love is in the air as well on the second episode of Game of Thrones season 8. Jon and Dany's love story is taking a leap it seems. Missandei and Greyworm are also steaming it up before the Great War begins.