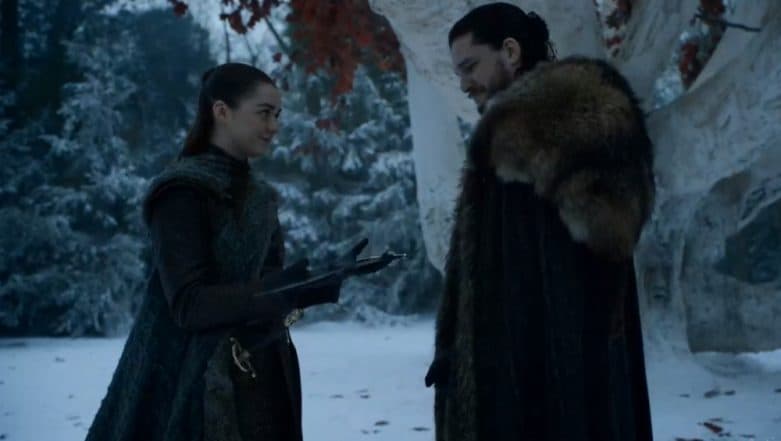 This is what it all has led up to all these years. The first episode of the final season of Game of Thrones has premiered. The world is going gaga over the awesomeness of the episode. This episode was majorly about reunions. You thought to watch Sansa Stark hug Jon Snow and Arya was emotional in the previous season. Wait till you watch this episode because it is the mother of all reunions. We almost stopped counting after a point. Well, this is what happens when characters like Bran Stark, Arya Stark, Jon Snow, Sam, Sansa Stark, Tyrion Lannister have all been away from each other for such a long time and have to come together before the show wraps up.
Some of these reunions were being anticipated for the longest time and, honestly, should have happened way earlier. For instance, Jon should have met his other siblings - Bran and Arya - earlier. Now, with the final season we know for sure we won't see these characters spending much time together on the screen. [SPOILER] Game of Thrones Season 8 Episode 1: First Nude, Foursome Scene of the Season Overjoys Twitter.
So, without further ado, here are the best reunions of the Game of Thrones premiere episode:
Jon Meets Bran
Jon returns to the North with Daenerys Targaryen. While he was away to get her, Bran had returned to Winterfell. Bran is the first person Jon notices as he enters the castle and is visibly ecstatic. Jon kisses his half-brother on the forehead.
Jon Meets Arya
Arya is super excited to meet Jon. So much that she runs out in the crowd amongst the commoners to see her brother arrive. Jon misses her in the crowd. Later, upon meeting Sansa he enquires where Arya is, to which she replies with a joke. Later, Jon is near the Weirwood tree when Arya sneaks up on him. They both hug and Jon is amazed that Arya still has Needle, the sword he gave to her in the first season.
Arya asks Jon to always remember that she and Sansa are his family.
Jon Meets Sam
When Jon meets his long lost best friend, Sam, it is yeh dosti hum nahi todenege vibes all over. But Sam has a bomb to drop on Jon. He reveals to him that he is the true king of the kingdoms. He tells him about his real father and mother. Yes, Jon finally knows that Daenerys is his aunt.
Sansa Meets Tyrion
Sans and Tyrion have not spoken to each other since Joffrey's wedding. When they finally speak to each other in this episode, Sansa even jokes about Joffrey's death. Wow, the woman has found a sense of humour finally. We are not exactly sure about the nature of their relationship at this point. But Tyrion does refer to her as "his wife". Sansa warns Tyrion that he should not be trusting his sister, Cersei.
Arya Meets The Hound
Arya had left The Hound for dead many seasons ago. They come face to face once again, but Hound is an ally of the North. So, at this point, he can't afford revenge from Arya. He simply calls her a 'cold, little bitch" and moves on.
Bran Stark Meets Jaime Lannister
WHOAA! Finally, the two people who started all of this drama in the first season have come face to face. Jaime is shocked to see Bran in flesh after all these years. He is after all the reason Bran is crippled now. Jaime had thrown Bran off a building after the kid caught him having sex with Cersei.