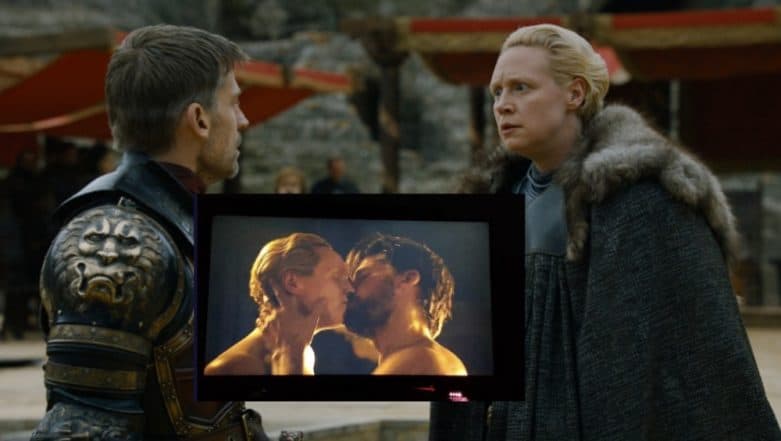 Game Of Thrones Season 8's fourth episode premiered today and it looks like things are getting complicated as the race to the Iron Throne is coming to a close. While the episode was filled with shocking moments, one of the most surprising events was also Brienne and Jaime Lannister's sex scene. The sexual tension between Jaime and Brienne's character has been evident in the story since the past seasons but them getting together wasn't expected. The scene not only became popular over the internet but was even termed as 'Oathsex' by fans of the show because both Jaime and Brienne have swords made out of Ned Stark's Oathbreaker. Game of Thrones 8 Episode 4: From Oathsex to Missandei's Death, 11 Standout Moments in 'The Last of the Starks' (SPOILER ALERT)
Actress Gwendoline Christie who plays the character of Brienne on the show recently spoke to Entertainment Weekly in an interview about film of the scene and her first response was 'amusing'. After finding out about the scene, actor Nikolaj Coster-Waldau who plays Jaime in the series messaged Gwendoline of just laughing emojis to which she responded with a 'being sick' emoji.
During the filming of the scene, Gwendoline told Nikolaj "Don't you f*cking laugh". She added, "Yeah, there had to be a few conversations, like 'Now you're going to need to be very professional about this." Although Christie stated that her paranoia was mainly just to get it right for her character. She said, "But I care for the character so deeply so it was important to me that it was taken care of well and I believe it was."
For many fans, it was a pathbreaking scene given that Brienne's character is more like a warrior and this is the first time we see her as a woman. Adding to this, Christie said, "She's not just a woman who can fight incredibly well and doesn't have any need for anything else. She is a woman, she's a human, she fights brilliantly, she also has some desire of companionship and sensual love."Game of Thrones Season 8 Episode 4: Brienne and Jaime Lannister's Sex Scene Dubbed As Oathsex by the Internet.
Even though Brienne and Jaime's relationship doesn't seem to have a happy ending as of now considering he has now taken off to King's Landing, we do hope that there will be some twist of fate that will bring them together again.