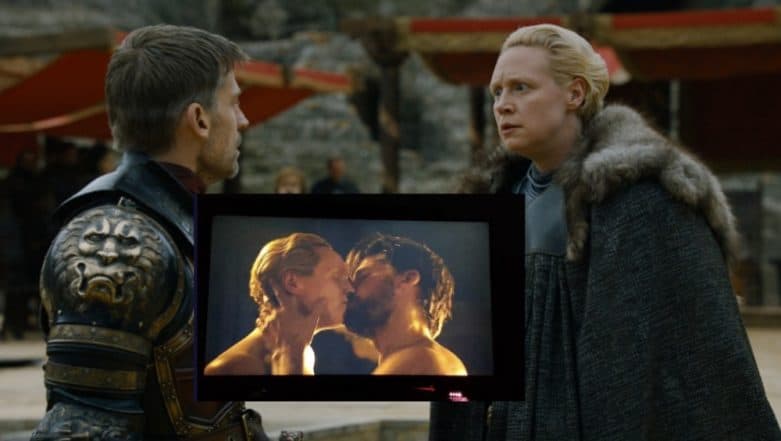 If you ask us, the real battle begins now on Game of Thrones season 8. We all knew that the Night King and his army of the dead will be defeated by Winterfell. Didn't we? But we have no idea what is going to happen next on the show. Oh, wait! Except for one more thing that we all called; Jaime Lannister and Brienne of Tarth having sex. In the fourth episode of Game of Thrones, this moment also arrived. To celebrate their victory, Jaime and Brienne play a drinking game. They get a little too drunk and, thanks to Tyrion, Jaime learns that Brienne has never had sex before ever. 'Game of Thrones' Episode Leaks Online, Again.
With her secret out, Brienne gets a little upset and excuses herself to solace. Jaime follows her to an empty room. And there we have it. The one scene fans have been asking for the longest time. Brienne and Jaime having sex. The internet has dubbed the steamy moment as 'oathsex'. The two passionately kiss and undress, before the screen fades out. Yes, the scene was the least graphic of all the scenes of GoT. Drake Gives Shout-out to Arya Stark in BBMA Acceptance Speech; Leaves 'Game of Thrones' Fans Worried - Here's Why.
THATS ALL WE GET TO SEE OF #OATHSEX ?!?!?

(Also oh god Brienne is so happy now I'm so scared for her and she's one of the only ones I 100% care about)#GameOfThrones

— Μ Λ Y Λ 🦇 (@merle_hagrid) May 6, 2019
"So Jamie and brienne I should've really seen it coming. I always interpreted they're relationship as more of a sibling type of affection but I know how Jamie feels about siblings." - Meghan #GameOfThrones #thronesyall #demthrones #jaime #Brienne #oathsex #thrones

— Amanda Marieee (@theamandamarie_) May 6, 2019
Brienne and Jaime doing it. #oathsex pic.twitter.com/viOoTcjSrg

— callmedrew (@werdnaitsirk) May 5, 2019
While this might be the first time ever Brienne has had sex, let us not forget that it's just as special for Jaime as well. The man has only been one with a woman, his sibling, Cersei Lannister. But the moment, Jaime arrived at Winterfell to fight by their side, we knew he is done with his toxic relationship with Cersei.
In the second episode, Brienne was knighted by Jaime. The emotional