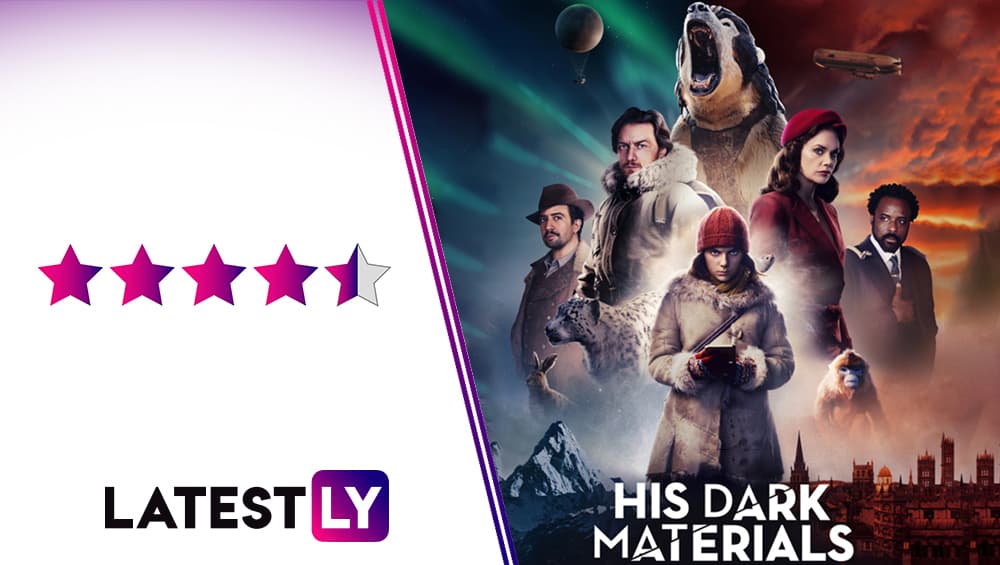 HBO's His Dark Materials Episode 1 Review:
His Dark Materials
is a BBC One, HBO original that premiered in India on Hotstar. The first episode of the series, Lyra's Jordan, was released on November 4.  The show is based on Philip Pullman's fantasy novel trilogy, including
Northern Lights
(1995) (published as
The Golden Compass
in North America),
The Subtle Knife
(1997), and
The Amber Spyglass
(2000). The first episode introduces the mystical premise of the series, and it takes us to a parallel fantasy world. Although, it may take some time for the viewers to get a hang of its intriguing premise.  
Sherlock Baddie Andrew Scott Joins HBO's 'His Dark Materials'
Episode 1 starts with a description of a parallel world, where human souls are linked to animals, known as daemons. Every human has his or her daemon or a spirit animal, with whom they share a sacred bond. They are spirit animals, who are depicted as Man's true advisors. They speak to their masters, guiding them using their intellect. Every human being in Pullman's world has his or own daemon.  It also announces the birth of a child with "great destiny" who will be brought to Oxford during the "Great Flood." 
Emmys 2019: 'GoT' Wins Outstanding Drama Series for Final Season.
SPOILER ALERT!
We are taken to a parallel universe where Oxford University in England is flooded densely. The show's lead character Lord Asriel (James McAvoy) carries a newborn baby (Lyra) on his head peculiarly like Vasudeva carried the infant Lord Krishna in the epic Mahabharata. He hands over the baby to Dr Carne - The Master of the University (Clarke Peters), asking him to guard the child who was destined for greatness, in keeping with the prophecy.  Twelve years down the line, we see Lyra Belacqua (Dafne Keen) running down the university campus with her best friend Pantalaimon (Kit Connor).
The adjacent narrative shows Lord Asriel (McAvoy) along with his daemon, a female Snow Leopard voiced by Helen McCrory who plays Aunt Polly in BBC's hit show Peaky Blinders. Asriel is keen on exploring the Northern Lights in Antarctica and discovers a series of photos to prove his theory of a parallel universe. He returns to Jordan college where Lyra is excited and happy to meet her uncle after a long time. Her only wish is to explore things up north.
 Asriel proves his theory of parallel universes in front of the Jordan College jury of professors and arranges for funds for further research. But he is not taking Lyra along with him at any cost. A sobbing Lyra runs behind her uncle who wants her to stay away from the North. However, Master Dr Carne hatches a plan to have scholar Marisa Coulter (Ruth Wilson) take Lyra to the north.
The catch which makes Episode 1 so engrossing is the myth of Gobblers coming true. A mysterious entity, Gobblers have foxes as their daemons. They kidnap children and take them to London. Lyra's best friend Pan is kidnapped by the end of the show. And as a true concerned friend, she decides to go with Marisa on the quest to rescue the kidnapped children from the Gobblers.
This flawless BBC show draws all our attention to Pullman's fascinating concept, which is so well portrayed in this series. A fictional England of Philip Pullman is a visual spectacle and after the end of the first episode, we are eagerly waiting for the other episode to drop. The film adaptation of Pullman's creation was Disney's 2007 film The Golden Compass, which was massively criticised for not being true to the book. However, this BBC series has been an exact interpretation of Philip Pullman's Northern Lights as attested by many bookworms. Viewers have received the series warmly, thanks to its grand scale, exceptional VFX, fascinating settings and well-written characters.
His Dark Materials Trailer
After a rocking performance in Hugh Jackman's Logan, Dafne Keen as a special orphan child has all our attention. Her portrayal of the innocent-yet-curious little child who is hell-bent on finding her missing friend Pan has left us spellbound. James McAvoy as Lord Asriel fits perfectly in this fantasy character. In the coming episodes, we might see more of him. Everything about His Dark Materials looks magnificent -- from its interesting characters to spectacular cinematography and screen-play.
Yay!
- A great fictional world to dive into
 -  Every character is lively and memorable
- The compelling screenplay makes it a sure shot watch
- VFX, cinematography and production design are magnificent
- Still a great watch for those who are unaware of Philip Pullman's trilogy
Nay!
- Not much of Marisa Coulter in the first episode
- At places, the score seems repetitive
Final Thoughts
As a fantasy show, His Dark Materials gets a bang on start. The first episode is much more than an experience when it comes to its characters, its breath-taking visual setting, and the kind of intrigue that the show builds on you. His Dark Materials is an unmissable show for this generation.