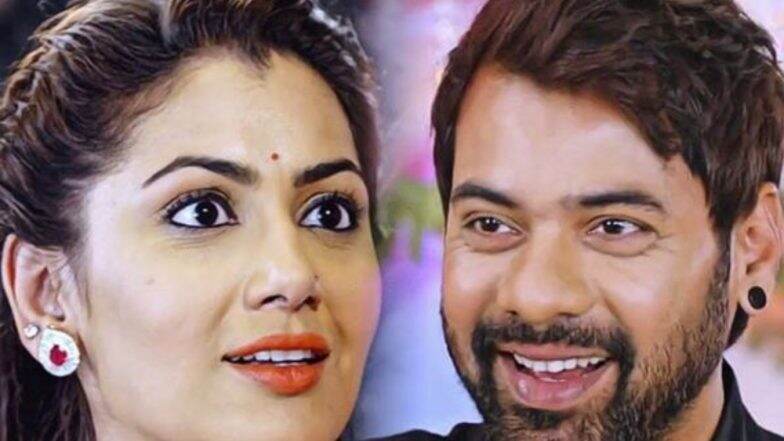 Today's episode of Kumkum Bhagya starts with Aaliya coming in Tanu's room and asking if she is fine as she has never seen her so quiet and tells her to speak something. Tanu says that she is thinking about why Abhi (Shabbir Ahluwalia) choose Pragya (Sriti Jha) over her. Aaliya tells Tanu that what Abhi thinks doesn't matter and that they have purchased their insurance, but Tanu remains confused. Aaliya tells that Pragya has gone to reveal her past to King and thinks that after knowing all he will forgive her and let her marry Abhi. Aaliya tells that she has poisoned King's mind against Pragya and that he will take care of the rest and smiles. Kumkum Bhagya February 11, 2019 Written Update Full Episode: King Feels Betrayed by Pragya, Will He Stop Her From Marrying Abhi?
All are busy in decorating the mandap and Purab and Disha get into a tiff with each other as who has done the work well. Tarun and Neha also get into an argument as to who is better, girls or boys. Abhi (Shabir Ahluwalia) comes and teases Purab and calls him a joru ka ghulam. Purab gets angry and tells that let Pragya come and then he will see it.  Abhi suddenly remembers that Pragya had asked him to speak to Tanu about their remarriage and he leaves to find her. Pragya reaches King's house, seeing her, King remembers all that happened in the mall and gets upset and goes to his room. Pragya follows him and sees that her clothes are put in a suitcase. King tells Pragya to lift the bag and go out of the house and go from his life. Pragya tries to tell that she understands that he is angry with her, King says that she never understood what feeling he had for her and tells Pragya that she cheated him and broke his trust by hiding the truth. He turns down her apologies and reacts aggressively.
Pragya bursts into tears seeing King's violent side. He tells her that she has destroyed his life. He further tells her that despite his wish to hurt her, he cannot do so because he is in love with her. King reveals to Pragya about his plan of proposing marriage to her after Tarun and Neha's wedding. She, however, tells him that he is wrong in the first place to have fallen for her. This makes King even more furious and he holds Pragya's arm and tells her that she has no choice but to come to London with him. Pragya ends up slapping King because of his forceful behaviour.
Suddenly King's phone rings, it is Disha on the line and she asks if Pragya is there, King says that she has gone from here and suddenly hears Pragya's voice and turns to see her and gives her the phone. Pragya takes the phone and talks with Disha. The heated argument between King and Pragya was a just an imagination. King thinks if confesses his love to Pragya, she will hate him. Pragya sees the Mangalsultra in King's hand and assumes that it is for Neha and tells King to personally give it to Tarun and that he will feel happy. Pragya finally tells King that Abhi is her husband and that she is still in love with him. She apologises to King again and again for not coming clean to him earlier. She assures him that nothing will change between them and that they will remain friends forever.
Pragya tells that King should know everything and narrates all that happened between her and Abhi. Pragya tells that she did not want to spoil her future because of her past. King tells Pragya that she should also move on like Abhi did by marring Tanu, Pragya tells King that their marriage is also like them. King is shocked to hear it. King asks what now, Pragya tells that before the mahurat they have to reach the mandap as with Tarun and Neha, she and Abhi are also getting married.
In the precap, both Tanu and King oppose Abhi and Pragya from marrying each other.