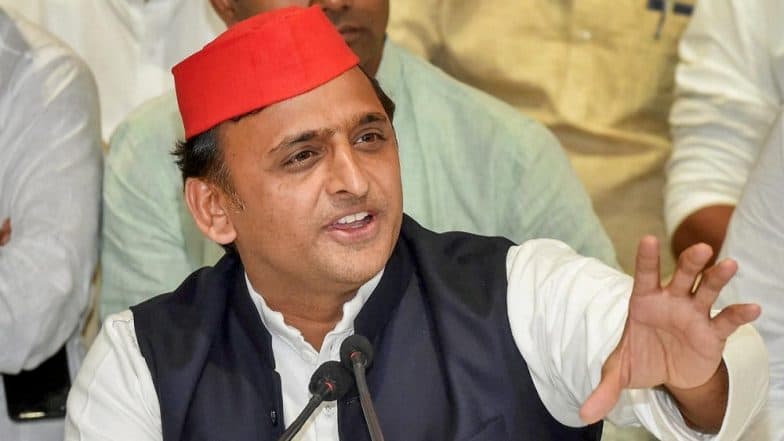 Lucknow, October 6: The Samajwadi Party (SP) on Saturday ruled out any alliance with the Congress for the upcoming Madhya Pradesh Assembly polls. SP chief Akhilesh Yadav said they waited long to come to an understanding but the Congress showed no willingness to join hands with like-minded parties to defeat the Bharatiya Janata Party (BJP). "We have waited till now but not any longer" the former Uttar Pradesh Chief Minister told a gathering at the party headquarters here. He added that the party will either contest the polls on its own or in an alliance with the Gondwana Party. Assembly Elections 2018 Full State-Wise Schedule: Voting For 2-Phase Chhattisgarh Polls on Nov 12 & 20, MP And Mizoram on November 28, Rajasthan And Telangana Polling on December 7; Counting And Results on December 11.
"The Bahujan Samaj Party (BSP) has already declined any tie up with the grand old party and I am sure other parties in other poll-bound states will also soon announce their candidates," the SP President stated.
In an indirect reference to the statement of senior Congress leader Digvijaya Singh that the BSP was not aligning with the Congress against the BJP in Madhya Pradesh for fear of the Enforcement Directorate (ED) and the CBI, Yadav said parties like the SP and BSP were not scared of anything.
He said the SP was ready to explore the possibility of a coalition with the BSP in Madhya Pradesh. In his address, he slammed the state government and said that people had lost faith in Chief Minister Yogi Adityanath and that law and order had completely collapsed in UP. Assembly Elections 2018 Full Schedule Announced By EC: Dates For Voting And Results In Madhya Pradesh, Rajasthan, Chhattisgarh, Telangana And Mizoram.
The Congress and the SP contested the Uttar Pradesh assembly polls together in 2017 but the alliance did not work in their favour as the BJP stormed to power with a landslide victory.