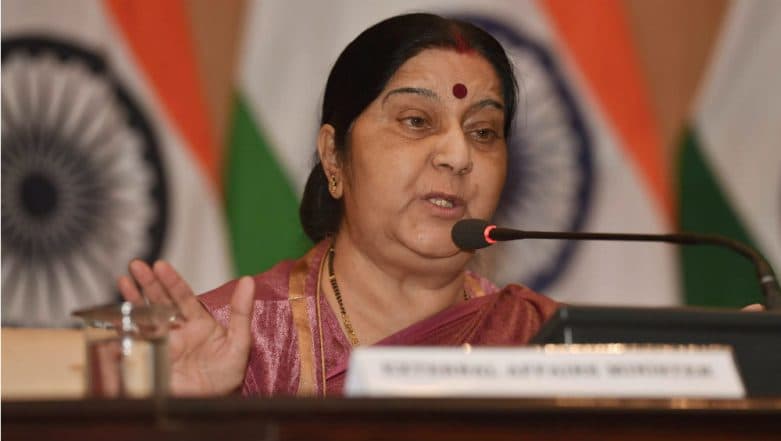 New Delhi, June 26: It comes as a huge relief to many who are planning to apply for their passport. External Affairs Minister Sushma Swaraj has said that after receiving complaints from people that their marriage certificates are required at the passport office, the rule has been scrapped. According to the ANI report, divorced women, will no longer be required to fill the name of their ex-husband and their children of their estranged father, because this rule too has been scrapped after receiving numerous complaints.
Swaraj has also introduced a new service-Passport Seva App, with which people will be able to apply for their passport from any part of the country. In addition to this, the police verification will be done on the address provided in the app, also the passport will be dispatched to that address.
Married men & women complained that their marriage certificates are reqd. at passport office, we scrapped the rule. Some divorced women complained that they are reqd. to fill the name of ex-husband & their children of their estranged father. So we changed the rule: Sushma Swaraj pic.twitter.com/kwWbjGV4u5

— ANI (@ANI) June 26, 2018
This decision comes on the back of the interfaith couple, comprising of a Muslim husband and a Hindu wife, facing hassles at the Lucknow Passport Seva Kendra. The woman had earlier alleged that the passport officer had misbehaved with her, and had questioned her as to why she has not changed her surname. The officer also asked the woman to show her nikahnama. She posted her ordeal on Twitter, and tagged Sushma Swaraj. It immediately got media attention, and MEA intervened into the matter and the passport of the couple was issued. The concerned officer was also transferred. Howevermhere has been no closure to the issue since then. Twitterati have accused Sushma of taking a biased decision, and failing to handle the issue carefully.