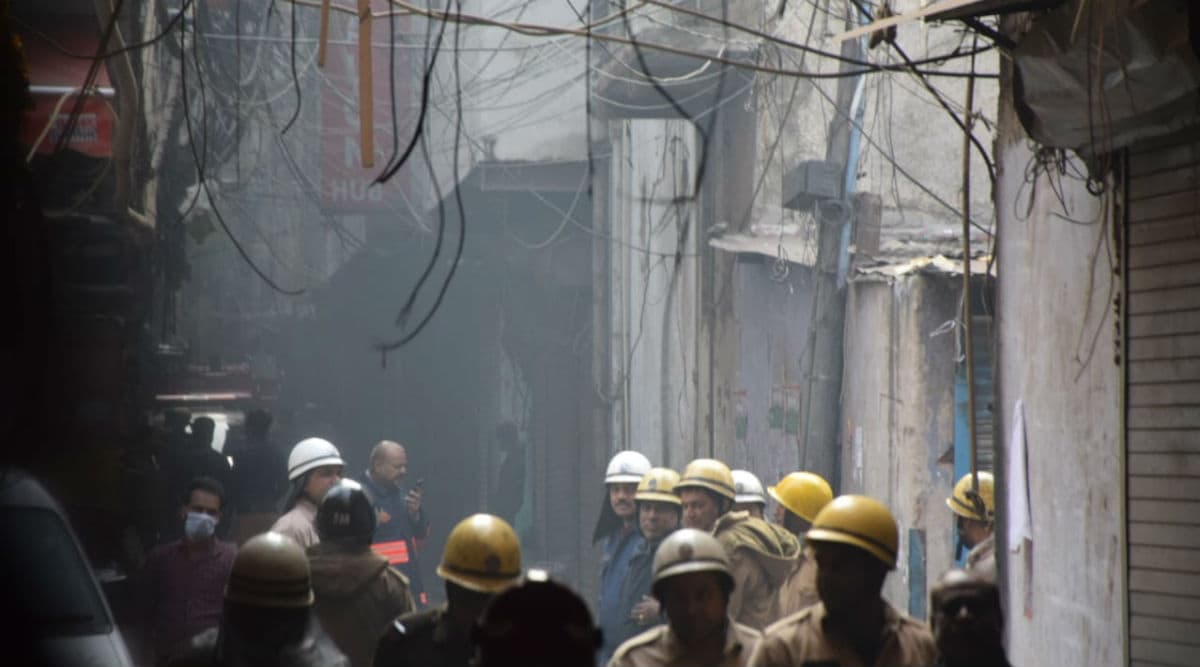 New Delhi, December 8: The four-storey building in a crowded market in West Delhi's Rani Jhansi Road area, where a fire broke out on Sunday morning killing 43 people, did not have clearance from the national capital's Fire Service Department. Speaking to news agency ANI, Delhi Fire Service Chief Atul Garg said that the building in Anaj Mandi did not have a No-Objection Certificate (NOC) from the fire department and safety requirements. Delhi Fire: Police Suspect Short Circuit Likely Cause of Anaj Mandi Blaze.
The fire broke out when more than 50 workers were sleeping in the factory. The blaze started between 4:30 am and 5:00 am. The Fire Department said that they received a call around 5:22 am and 25 fire tenders were rushed to the spot. Nearly 60 people were rescued and taken to the Lok Nayak Jai Prakash Narayan Hospital (LNJP) and Lady Harding Hospital. So far, 34 people have been reported to be dead in LNJP hospital and nine in Lady Harding Hospital.
Blame Game Begins:
The fire incident triggered a blame game between the Aam Aadmi Party (AAP) and the Bharatiya Janata Party (AAP). While the AAP runs the Delhi government, all three civic bodies in the national capital are under BJP's rule. "If a factory was operating illegally at a house, then, it was responsibility of Municipal Corporation of Delhi to shut it. How did MCD allow the factory to run?" AAP lawmaker Sanjay Singh told ANI.
BJP MP Gautam Gambhir demanded a probe into the incident. "I do not wish to indulge in politics but there must be an investigation into the incident. Someone has to take responsibility, it is a tragic incident," the cricketer-turned-politician said. A case has been registered against the factory owner Rehan for operating the bag manufacturing unit from a residential area and flouting safety norms. He is absconding.
Initial Probe Shows Fire at Anaj Mandi Likely Due to Short Circuit:
Giving details about the massive fire incident, MS Randhawa, PRO Delhi Police informed that prima facie it appears short circuit caused the fire. He said plastic material were at the spot which caused a lot of smoke. Randhawa added that the case has been transferred to Crime Branch and forensics team will arrive at the spot soon to ascertain the exact cause.
Death Majorly Due to Smoke Inhalation & Suffocation:
Kishore Singh, Medical Director, LNJP Hospital, said that the condition of those injured is not serious and they have been kept under observation. He said 34 people were brought dead to the hospital while the injured were rushed towards for medical assistance. Singh added saying that the deaths have been mostly due to smoke inhalation and suffocation.
Delhi Chief Minister Arvind Kejriwal described the incident as "tragic" and said firemen were doing their best. "Very very tragic news. Rescue operations going on. Firemen doing their best. Injured are being taken to hospitals," Kejriwal tweeted. Prime Minister Narendra Modi announced Rs 2 lakh ex-gratia for families of those killed and Rs 50 thousand for the injured.