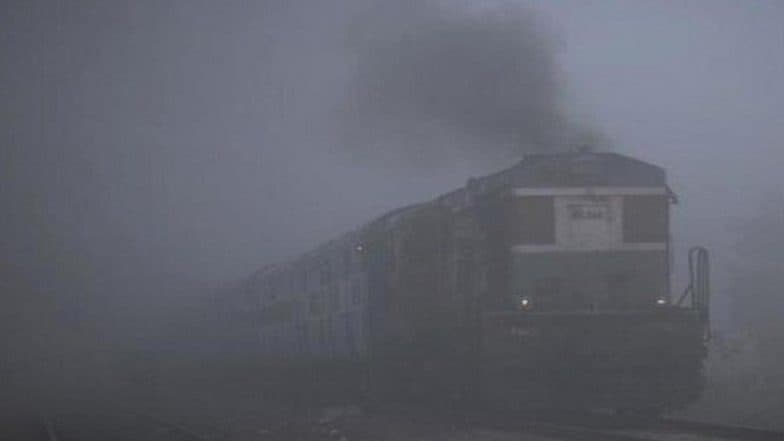 New Delhi, February 11: As dense fog enveloped parts of North India including Delhi, several trains are delayed. A total of 17 trains of Northern Railway are running late on Monday. Most of the trains are Delhi bound trains. The trains which are running late includes 14217 Prayagraj-Chandigarh Unchahar Exp, 18101 Tatanagar-Jammu Tawi Muri Exp, 12381 Howrah-New Delhi Poorva Exp and Indore-New Delhi Exp.
In the past few days, entire North India was engulfed with a blanket of dense fog. On Saturday too, 20 trains to Delhi were running late. Meanwhile, On February 7, heavy rainfall accompanied with hailstones hit plains of North India including Punjab and Delhi-NCR. Fog Leads to Accident in Jhajjar; 50 Vehicles Crash Into Each Other on Rohtak-Rewari Highway in Haryana, 8 Dead - Watch Video.
Cold wave conditions also intensified across Himachal Pradesh with several areas including Shimla, Manali, Lahaul and Spiti regions receiving fresh bouts of snow. In the wake of the heavy snowfall across the state, the District Administrations of Kullu and Shimla have extended the winter vacations by two more days for primary and senior secondary schools. The schools will now reopen on February 13 instead of February 11.