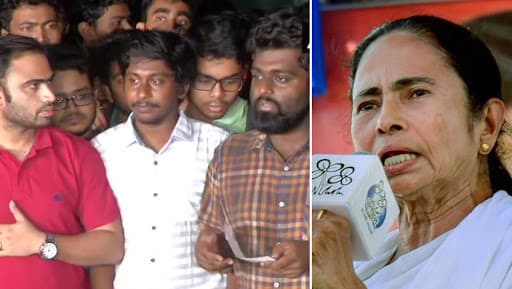 Kolkata, June 17: Hours after West Bengal Chief Minister Mamata Banerjee accepted the proposal of doctors to set up Grievance Redressal Cell in Government Hospitals, protesting junior doctors of the NRS hospital in Kolkata have announced that they are calling off the strike. The following update arrived after Banerjee agreed to meet the doctors' representatives at the state secretariat in Howrah.
According to the initial details, the TMC chief also directed the Kolkata Police commissioner Anuj Sharma to deploy a nodal police officer in every hospital. With this, the seven-day long doctors' strike in entire West Bengal came to an end and now all the doctors have been said to return to their respective hospitals. Doctors' Strike: Mamata Banerjee Meets Protesters, Accepts Proposal to Set Up Grievance Redressal Cell in Govt Hospitals
Informing about calling off the strike, junior doctors of NRS hospital said, as quoted by ANI, "We extend our heartfelt gratitude to the CM. After an enormous movement, the meeting and discussions with our CM met a logical end. Considering everything we expect the govt to solve the issues as discussed in due time."
Adding more, they said, "We extend our heartfelt gratitude to all seniors, juniors, patients, common people, intelligentsia and medical fraternity of the country who spontaneously extended their support&made this movement possible. We hope to maintain this unity in future." Doctors' Strike: AIIMS, Other Hospitals Join IMA-Called Stir; Health Services Hit in Delhi.
Earlier, on June 15, the state Chief Minister had also promised not to invoke the stringent Essential Services Maintenance Act (ESMA) and appealed to them to resume work immediately. She had said that the West Bengal government would bear all medical expenses for the treatment of the two junior doctors, who were assaulted at the NRS Medical College and Hospital in Kolkata that triggered the strike. The incident took place on June 10.