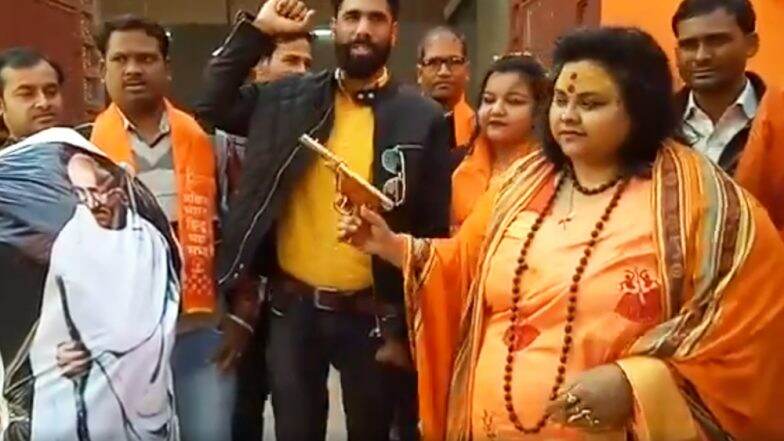 Lucknow, February 6: The Aligarh police on Wednesday arrested Hindu Mahasabha national secretary Pooja Shakun Pandey and her husband Ashok Pandey from Tappal, for recreating Mahatma Gandhi's assassination on Martyr's Day last month. Apart from the duo, the Uttar Pradesh police had on January 31, had arrested three people in connection with a viral video that showed several Hindu Mahasabha leaders shooting at the effigy of Mahatma Gandhi in Aligarh on his death anniversary. According to reports, the suspects allegedly belonged to the right-wing All India Hindu Mahasabha. However, the key accused, Pooja Pandey was absconding, police said. Martyrs' Day: Mahatma Gandhi's Effigy Burnt by Hindu Mahasabha Leader, Nathuram Godse Garlanded; Watch Video.
After the video went viral, the cops booked Pandey, her husband Ashok and 12 others under section 147,148,149, 295A and 153A for rioting, promoting enmity and hurting feelings of a section of society. Nathuram Godse, the assassin of Mahatma Gandhi, was a member of Hindu Mahasabha. Congress Protests Against 'Insult' to Mahatma Gandhi on Death Anniversary. 
While the nation remembered the Father of the Nation on his 71st death anniversary on January 30, the right-wing Hindu group re-enacted his assassination for fun in Uttar Pradesh's Aligarh. In a shocking video that went viral on social media, Pandey was seen shooting the effigy of Mahatma Gandhi amid cheers and slogan "Mahatma Nathuram Godse amar hai".
This is not the first time Pandey has sparked a controversy. Earlier in August 2018, Pandey had said if she was born ahead of Godse, she would have killed Gandhi. Blaming Gandhi for India's partition, reports quoted Pandey warning Gandhi followers saying she will shoot anyone if they try to become another Mahatma. She also blamed him for the partition of the country which led to the death of several lakhs of Hindus.