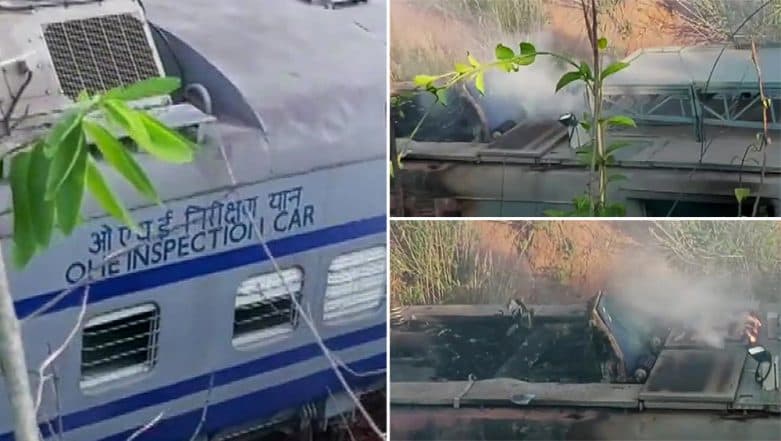 Bhubaneswar, June 25: The Howrah-Jagdalpur Samaleshwari Express derailed between Singapur Road and Keutguda stations in Odisha on Tuesday. As per the visuals emerging from the spot, a significant portion of the train went off the tracks and flames were sparked. No casualties, however, were reported by the time this report was published.
Preliminary reports claimed that the train's engine, luggage van and one coach of the general second class derailed. Railway officials along with emergency workers were rushed to the spot for the rescue operation. Journalist Covering Train Derailment in UP's Shamli Brutally Thrashed, Stripped And Urinated Upon by GRP Personnel
According to the local media, the train derailed after the engine caught fire and went off the tracks. The engine crew, along with passengers onboard, are stated to be safe with no injuries being reported yet.
Update by ANI:
Odisha: Engine, front guard cum luggage van and one general second class coach of Howrah-Jagdalpur Samaleshwari Express derailed between Singapur Road and Keutguda. The engine that caught fire was detached from the train. No injuries reported. Officials are at the spot. pic.twitter.com/nsRTfFIOZ1

— ANI (@ANI) June 25, 2019
The train derailment incident comes four days after the Ministry of Railways informed the Parliament that a total of 59 accidents have been reported in 2018-19, out of which 17 were caused due to defected tracks.
Responding to a question in Rajya Sabha, Railway Minister Piyush Goyal said there were 20 accidents in 2015-2016 due to track defects and 34 the next year.
"It (accidents due to track defects) has come down to 17 in 2018-2019, he said. "Safety is accorded the highest priority by Indian Railways and all possible steps are undertaken on a continual basis to ensure safe running trains," the Minister added.
"Indian Railways has taken several key measures as a result of which the consequential train accidents have decreased from 135 in 2014-2015 to 59 in 2018-2019," Goyal further added.