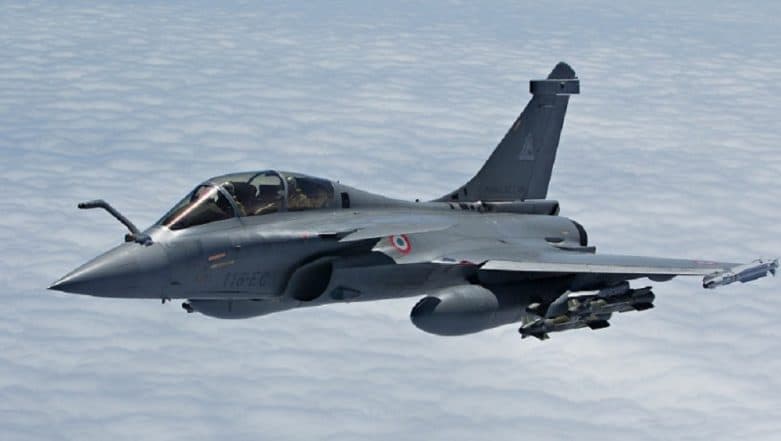 New Delhi, September 10: Amid the controversy over the Rafale deal, a six-member crew team of the Indian Air Force (IAF) has left for France to train on the Rafale fighter jets on Sunday. According to media reports, the team is comprised of a fighter pilot, an engineer and four technicians. The crew members will be trained on the jets as the IAF has started preparations for inducting the first lot of its new planes from September 2019.
The crew, which left for France, will be trained at the Saint-Dizier airbase in eastern France. According to reports, the IAF will send more pilots and technicians to France for the training in the coming months as these crew members will be responsible for flying the jets to India. India has purchased 36 Rafale jets from France in government to government deal in September 2016. All these jets will be inducted in 'ready to fly' condition.
Last time India imported any foreign jets was Russian built- Sukhoi 30 fighter jets in 1997. Almost after 22 years, the country is now importing the Rafale fighter jets. The squadrons of the newly imported jests will be based at Ambala in Haryana and Hasimara in West Bengal. It will cover both the western and eastern borders. All the 36 jets will arrive by September 2022. Currently, the IAF is facing a shortage of fighter jets. The force has 33 fighter squadrons against the authorised strength of 42 squadrons.
The Congress has alleged that the Modi government has spent more than the actual price of the jets; however, the Centre claimed that the jets purchased by the government are 20 percent cheaper than what was offered under the deal signed by the Congress-led government in 2007. The central government has also rejected claims of opposition parties to disclose the price of each jet because of the secrecy clause signed by the government.