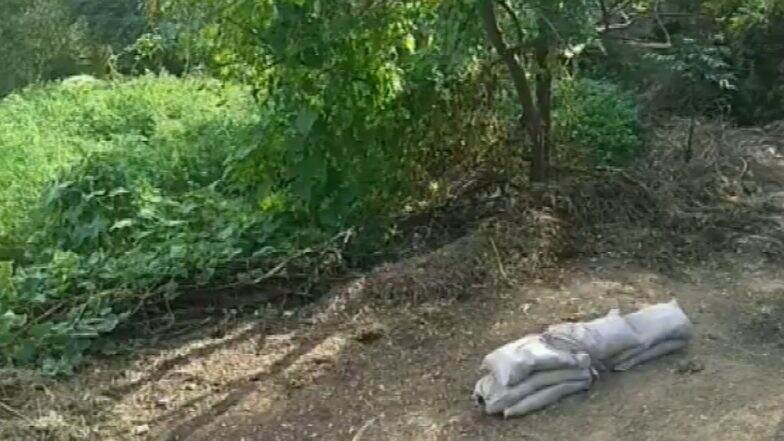 Poonch, September 15: The Indian Army destroyed a 120 mm live mortar shell at a secluded place in Jammu and Kashmir's Poonch on Sunday. The mortar shell, reportedly fired by Pakistan Army to target civilian population across the Line of Control (LoC), was found in the proximity of houses in Balakote village in Mendhar Sub-Division on September 14. The video of the incident is tweeted by news agency ANI. PoK People Instigated by Leaders Across LoC, Pakistan Using Them As 'Cannon Fodder', Says Lt General Ranbir Singh.
An Army official said that under great risk, the Indian Army team dug out an unexploded live bomb from the village and destroyed it at a safe place. The operation was undertaken swiftly by the disposal team, ensuring no loss of life and property or any collateral damage.
Video of Indian Army Team Destroying Mortar Shell:
#WATCH Poonch: Army in a secluded place destroyed 120 mm live mortar shell which was found in proximity of houses in Balakote village in Mendhar Sub-Division on September 14. No loss of life or property reported. #JammuAndKashmir pic.twitter.com/J0bmRuo2eG

— ANI (@ANI) September 15, 2019
On Saturday, Pakistan violated ceasefire in the same location. Pakistan troops used small and heavy arms, including mortars to target the Indian Army posts and civilians across the LoC. The Indian Army retaliated strongly. No loss of life was reported. The Pakistan violated ceasefire  in the morning and the firing continued till 1:00 pm.
The Ministry of External Affairs (MEA) on Sunday said that Pakistan violated ceasefire 2050 times this year in which 21 Indians died. The MEA said that India had called upon Pakistan several times asking them to adhere to 2003 ceasefire understanding. The MEA statement came a day after the Pakistan Army retrieved the bodies of two of its soldiers neutralised by the Indian Army at the LoC. Pakistani troops had to raise white flag to retrieve the bodies.