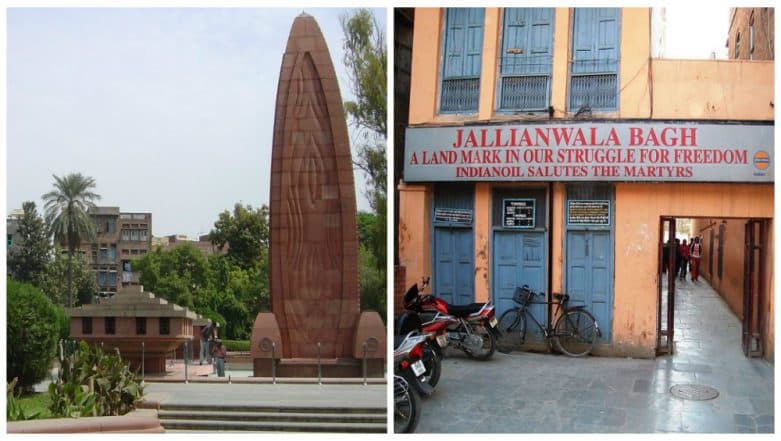 Amritsar, February 22: The Punjab government on Friday decided to build a memorial in Amritsar from the soil of 13,000 villages of the state to pay tribute to the martyrs of the Jallianwala Bagh Massacre. The decision was taken during a meeting of Implementation Committee regarding Centenary Commemoration of the massacre. Punjab Chief Minister Captain Amarinder Singh approved the decision.
According to local media reports, the chief minister also asked the Deputy Commissioner Amritsar to identify a strategic spot in the city, where a suitable memorial could be erected. On Centenary Commemoration of the massacre, the Punjab government will organise a grand function on April 13. Captain Singh also directed the Principal Secretary Cultural Affairs to coordinate with all the concerned departments for organising the function. The Art and Culture Heritage Trust would organise a Heritage Walk in the old Amritsar town. Shashi Tharoor Narrates Jallianwala Bagh Massacre at Auckland Writers Festival, Englishman Apologises on Britain's Behalf.
Meanwhile, commemorating the 100th anniversary of the Jallianwala Bagh massacre, a debate was held in the main chamber of the Upper House of the United Kingdom (UK) Parliament on February 19. reports surfaced that The United Kingdom government is "reflecting" on demands for a formal apology for the Jallianwala Bagh massacre in April 1919 during the British Raj, a minister told the House of Lords during a debate to mark the centenary of the attack. Jallianwala Bagh Massacre: 99 Years Since the Tragedy That Inspired Freedom Fighters.
During a debate titled 'Amritsar Massacre: Centenary' in the Upper House, Baroness Annabel Goldie also confirmed plans to mark 100 years since the tragedy "in the most appropriate and respectful way", reported The Print. Goldie is a life peer in the House of Lords. This is the first time in 100 years that a full debate on the Jallianwala Bagh massacre was held in the House of Lords.