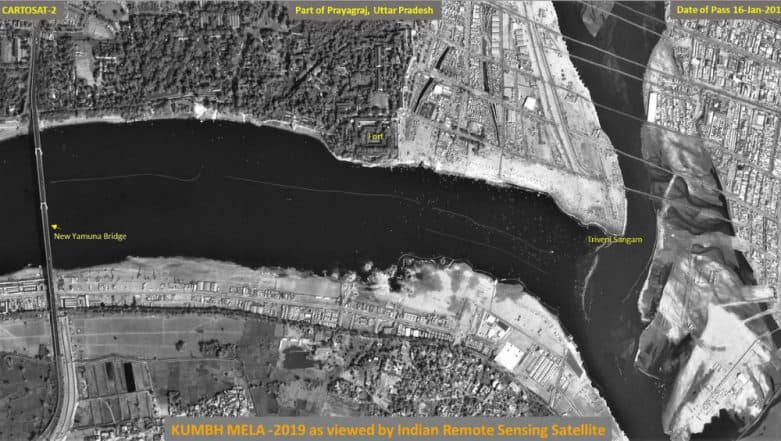 Kumbh Mela, the world's biggest religious event or gathering, has entered its fourth day and millions continue to visit the holy city of Prayagraj (earlier called Allahabad). And now, the ISRO has released images of Kumbh mela from space captured by India's high resolution satellite CartoSat-2. CartoSat-2 is an earth imaging satellite developed indigenously. Kumbh Mela 2019: 1.4 Crore People Take Dip As World's Biggest Congregation Begins and a Centuries Old Ritual Continues.
Isro tweeted about the images captured by Indian remote sensing satellite Cartosat 2 showing key areas in and around Kumbh Mela 2019.
Check the Images in the Tweet Below:
These are two images captured by Indian Remote Sensing Satellite #Cartosat2 showing key areas in and around #KumbhMela2019. pic.twitter.com/NSmixXV7Ga

— ISRO (@isro) January 17, 2019
The sacred baths began in Prayagraj at the break of dawn on January 15, millions took a dip to mark the beginning of the Kumbh Mela on Tuesday. By end of day, about 1.4 crore people had taken the ritual bath in the holy waters of the Sangam here, administration officials estimated. The Kumbh bath which began on January 15 will go on for 50 days.  Special Trains for Prayagraj Kumbh Mela 2019: View List of Trains and Schedule by Indian Railways From Maharashtra to Uttar Pradesh.
Makar Sankranti marks the beginning of the Kumbh which is celebrated once in every four years. The confluence of the Ganga, Yamuna and the mythical Saraswati, called Triveni Sangam, attracts millions and has been at the center of spirituality for centuries. Kumbh Mela 2019: Devotees Light 33,000 Lamps Daily for Construction of Grand Ram Mandir in Ayodhya.
The Uttar Pradesh government this time has allocated Rs 4,200 crore for the Kumbh Mela being held in the 'sangam' city of Allahabad, which is over thrice the budget of the Maha Kumbh in 2013, making the mega pilgrimage perhaps the costliest ever.