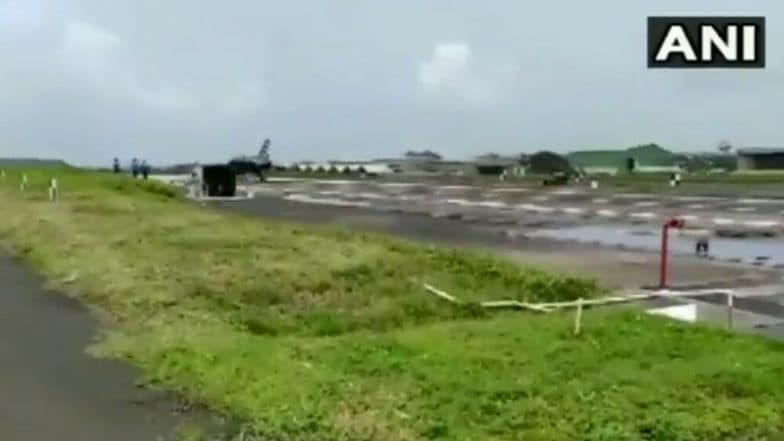 New Delhi, September 13: Defence Research and Development Organisation (DRDO) and the Aeronautical Development Agency (ADA) on Friday successfully executed the first-ever "arrested landing" of Light Combat Aircraft (LCA) Tejas at a shore-based facility, INS Hansa in Goa. This is a major step in the delayed project for the LCA to operate from an aircraft carrier. Defence Ministry Inks Deal With Russia For Modernising Air Defence Capability of Indian Navy's P-15 Ships.
An official statement said that the Naval LCA made a successful landing with the arrestor wires on the Shore Based Test Facility in Goa. This big step will pave way for this indigenous platform to undertake landing demonstration onboard the Indian Naval Aircraft Carrier, Vikramaditya. India to Spend a Whopping USD 130 Billion for Military Modernisation in Next 5-7 Years.
Watch Naval LCA Tejas Performs Arrested Landing:
#WATCH DRDO and the Aeronautical Development Agency successfully executed the first ever arrested landing of LCA Tejas (Navy) at the shore based test facility in Goa. This is a step towards the aircraft getting operational on aircraft carrier INS Vikramaditya. (video:DRDO) pic.twitter.com/LcsnIYTHPU

— ANI (@ANI) September 13, 2019
The key feature of LCA is to halt at a very short distance. Today's test replicates the condition on an aircraft carrier where the fighter jets have to stop with the help of arrestor wires to stay within the length of the narrow deck.
After years of test flighting and four campaigns of testing at SBTF, on Friday the flight test team-led by Commodore J A Maolankar (Chief Test Pilot), Captain Shivnath Dahiya (LSO) and Commander J D Raturi (Test Director) successfully executed an arrested landing.