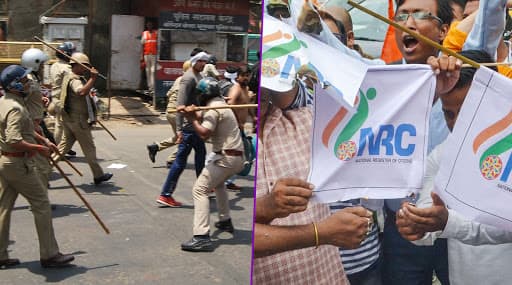 Lucknow, October 1: With the row over National Register of Citizens in Assam yet to stabilise, reports have arrived that Uttar Pradesh police have been asked to identify Bangladeshis and "other foreigners" so they can be deported. Stating that the move is 'very important' for the state's internal security, UP Director General of Police issued a letter in this regard.
According to the minutes of the letter, top officers have been instructed to carry out and monitor the deportation of illegal immigrants in a time-bound manner. The recent order from the police administration comes amid the NRC in Assam, which excluded 19 lakh people from the final list and gave 120 days for the illegal immigrants to prove their nationality. Yogi Adityanath Bats For NRC in Uttar Pradesh, Says 'Can be Implemented in Phases if Need Arises'.
Reports are arriving that the UP police have been asked to check transport hubs and slum clusters on the outskirts of their districts. Also, police officials have been ordered to asked to verify all documents produced by anyone appearing suspicious. Apart from this, police would also track down government employees who may have helped prepare fake documents for "foreigners".
Once proven that the person is a Bangladesi, the police will collect the fingerprints. The construction companies have already been told by the state police to keep identity proof of all labourers. Earlier, state Chief Minister Yogi Adityanath had praised the Assam NRC and had stated that a similar move would be launched in Uttar Pradesh. The CM had called this move as national security.