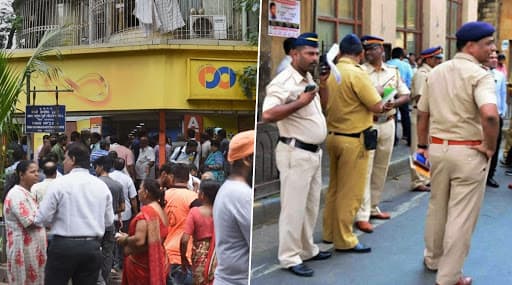 Mumbai, October 3: Two days after the suspended Managing Director of the Punjab and Maharashtra Co-operative (PMC) Bank -- Joy Thomas -- wrote six-page letter to the Reserve Bank of India (RBI), Economic Offence Wing (EOW) of Mumbai Police arrested Housing Development Infrastructure Limited (HDIL) Directors Sarang Wadhawan and Rakesh Wadhawan in PMC Bank case. Also, reports are arriving that the property of Rs 3,600 Crore has also been frozen of all the three accused in the case.
According to the initial reports, the Mumbai Police's EOW -- investigating the discrepancies in the PMC bank -- has arrested the HDIL directors Sarang Wadhawan and Rakesh Wadhwan. Also, the arrest of suspended MD of PMC bank is on the cards as Mumbai Police registered an FIR against senior officials of Punjab and Maharashtra Cooperative (PMC) Bank on September 30. The case has also been registered against HDIL officials. PMC Bank Crisis: Joy Thomas, Suspended Bank Chief, Admits to Have Hid Info About Stressed HDIL Accounts From RBI.
Following the registration of the case under sections 409, 420, 465, 466, 471 and 120B, the EOW formed a Special Investigation Team (SIT) to probe the matter which caused losses to the tune of Rs 4355.43 crore to the bank. FIR states that fraudulent practices took place in the bank, where the bank officials violated banking norms between 2008 and 2019.
An estimate states that HDIL defaulted on a loan amount of Rs 6,500 crore, which led to the weakening of the PMC Bank's condition. Though HDIL was declared as a non-performing asset (NPA), the suspended MD of PMC continued to hide the matter as he feared irreversible damage to the bank's reputation among creditors, depositors and regulators. Mumbai Police Register FIR Against PMC Officials Including Suspended Managing Director Joy Thomas; HDIL Officers Also Named.
Meanwhile, Reserve Bank had raised the withdrawal limit to Rs 10,000 in 6 months from the previous Rs 1,000 limit after customers raised hue and cry. Also, RBI took over the PMC Bank and barred it from issuing new loans or renewing the existing ones, make investments, open new accounts or indulge in any other business activity.