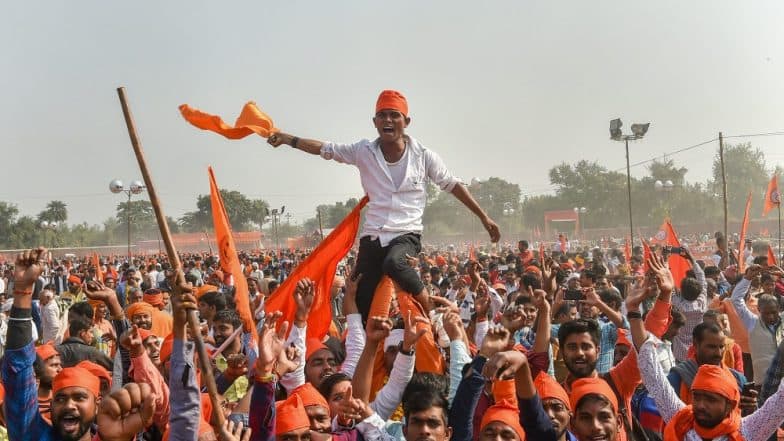 Lucknow, February 6: The Vishwa Hindu Parishad (VHP) on Wednesday decided to put on hold its campaign for the construction of the Ram Temple in Ayodhya till the Lok Sabha Elections are over. The pro-Hindu organisation claimed that it had taken this step to avoid politics over the Ram Temple issue. Shiv Sena Uddhav Thackeray Announces 'Dharma Sabha' for Ram Temple on December 24.
"We are putting on hold our protests for four months because we don't want to make it a 'chunavi mudda' (election issue).When we do not have the land (the disputed site), what is the use of carrying on with the agitations," reported The Tribune quoting senior VHP leader Surendra Jain. He also reiterated that the issue would always be alive for the organisation and as soon as the elections are over, it would be back with the demand. Ram Mandir Foundation Ceremony on February 21, Time For Final Push in Ayodhya: Swami Swaroopanand.
The decision came just days after the VHP's 'dharma sansad' during Kumbh Mela in Uttar Pradesh's Prayagraj. In the 'dharma-sandad', the VHP adopted a resolution saying they will not rest until a grand temple is built at the birthplace of Lord Ram in Ayodhya. Ram Mandir Row: VHP Expects 'Favourable Supreme Court Order', Sends 70 Trucks With Stones to Ayodhya.
On the contrary, the Rashtriya Swayamsevak Sangh (RSS) reposed faith in the Narendra Modi government and decided to drop the demand for the construction of the temple. RSS chief Mohan Bhagwat while speaking at the conclave, he asked seers to keep patience for some more time so that the next government could pave the way for a grand Ram temple in Ayodhya.