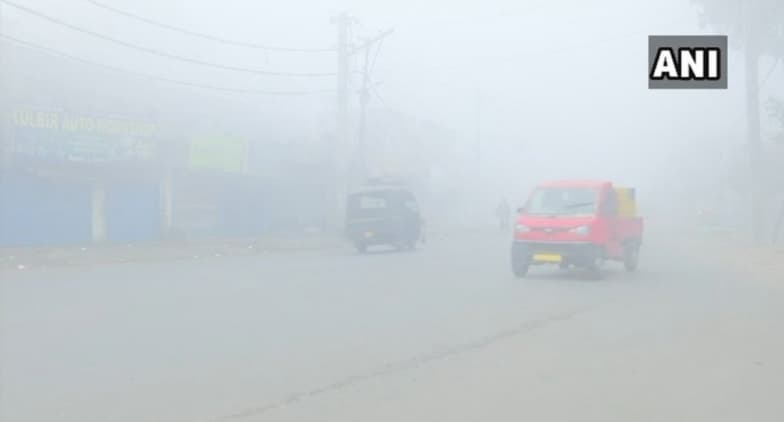 Amritsar, December 23: Cold waves swept most parts of the north Indian states such as Haryana, Punjab and Himachal Pradesh on Sunday. Several cities in these states woke up to one of its coldest mornings on December 23. According to weather reports, the mercury dipped below zero degree Celsius in Karnal as cold waves gripped the region. Dilli Ki Sardi 2018: Delhi Sees Coldest December Morning in 4 Years, Temperature Drops to 4 Degrees Celsius.
As fog reduced visibility at several places, five flights are delayed from Amritsar and flight operations will begin at 1 pm at Chandigarh International Airport, reported ANI. Weather Change Sickness: How Sudden Temperature Change Affects Our Health.
Visuals from Amritsar:
A thick blanket of fog engulfs the city of Amritsar in Punjab. pic.twitter.com/mxmRRt8DXU

— ANI (@ANI) December 23, 2018
Gurugram, Hisar, and Rohtak in Haryana recorded minimum temperatures of 1.4, 2.7, 3.8 degrees Celsius respectively. In Punjab, Adampur continued to be the coldest place as the temperature was 0.2-degree Celsius. Amritsar, Ludhiana, Chandigarh and Patiala recorded minimum temperatures of 2.2, 1.4, 4.6, and 4.7 degrees Celsius respectively. While Delhi recorded 3.7 degrees Celsius early morning on Sunday. In Himachal, Lahaul and Spiti's Keylong continued to be the coldest place in the state with a minimum temperature of minus 8.8 degrees Celsius.
Meanwhile, Delhi on Thursday woke up to its coldest morning as the temperature was dropped to 4 degrees Celsius. The Indian Meteorological Department said that the temperature is going to further fall over the coming days and the Northen part of India must be ready for even colder winter nights.