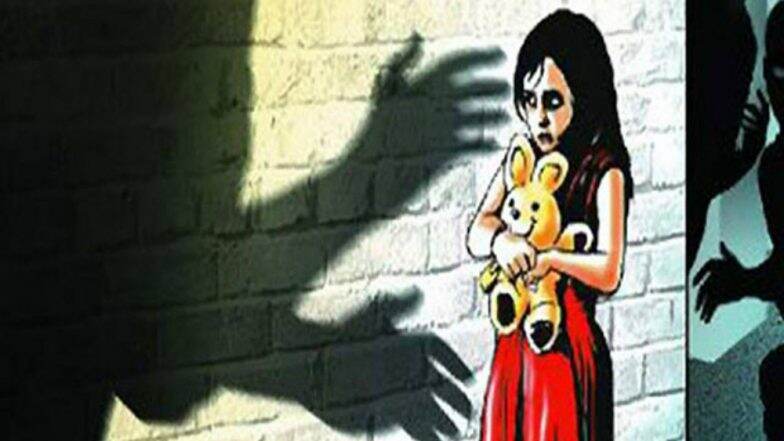 Gurugram, February 22: In a shocking incident, a minor girl in Gurugram was allegedly digitally raped by a 28-year-old man in a toilet of a private school on Thursday. According to reports, the man, identified as a sanitation worker raped the three-year-old girl in school toilet in Sector 70 of the city. Police informed that the man had allegedly taken the girl, a kindergarten student, to the toilet and sexually assaulted her. According to a report by Hindustan Times, the accused has been arrested and a case has been registered into the matter.
Mukesh Kumar, station house officer of Badshahpur police station said an FIR was registered under Section 6 (aggravated penetrative sexual assault) of the Protection of Children from Sexual Offences (POCSO) Act. Police informed that the accused hails from Uttar Pradesh. He works along with his wife in the same school as a sanitation worker. Gurugram Shame: Man Rapes 3-Year-Old Daughter After Altercation With Wife. 
The report informs that the man, who is working at the school for the last six years, took the minor to the toilet during the school hours. The incident came to light after the girl went home and complained about pain in her private parts. Gurugram: Naked Body of 3-Year-Old Girl Found in Sector 66, Rape Suspected.
Giving further details, Police informed that as pain continued, the worried parents asked the girl about the pain. It was then, when the girl named the man and said that the uncle (the accused) is bad. Soon after, the parents questioned the school authorities following which, he was handed over to the police. Haryana Shocker: Brother Rapes Minor Sister on Diwali in Gurugram, Arrested.
The cases filed under the POCSO Act in Gurugram have seen a spike and increased from 140 in 2017 to 181 cases till December 2018. Reports informed that the girl's medical examination has been conducted and her mother's statement was recorded.
Digital Rape
Digital rape is a term used when someone rapes a person using their finger or fingers. It is an act when a person uses fingers to violate and force a sexual and violent act upon an unwilling victim. The act is done without consent of the victim.