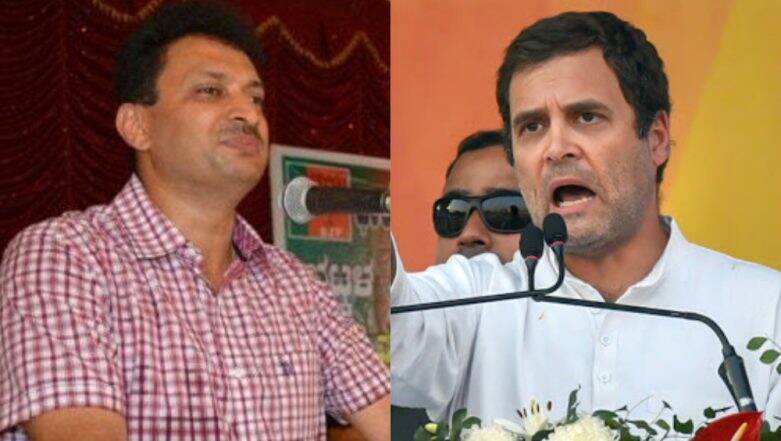 Bengaluru, March 11: The Election Commission announced the schedule for Lok Sabha elections on Sunday, and the political parties have stated their game. In the latest, Union Minister Anant Kumar Hegde, yet again, stirred controversy by questioning Congress president Rahul Gandhi's religious origin and called him a 'Muslim'. Referring Gandhi as 'hybrid person' – a Christian mother and Muslim father – Hegde asked the Congress chief to give a DNA proof to establish that he is a 'Janeudhari Brahmin' – a Brahmin wearing sacred thread.
Expressing his opinion on Congress president, the Union Minister of State for Skill Development and Entrepreneurship said in Sirsi on March 9, as quoted by ANI, "This Muslim who calls himself a 'janeudhari' Hindu, is there any proof that he is a Hindu? This son of a Muslim, whose mother is a Christian, does he have any proof? I am not joking." Anant Kumar Hegde Fires Fresh Salvo: 'Rahul Gandhi a Hybrid Specimen, Father Muslim, Mother Christian'. 
Hegde drew the reference from Rahul's grandmother Indira Gandhi's husband – Feroze Gandhi, a Parsi from Gujarat – and Sonia Gandhi – a Christian – while calling the Congress president a 'Muslim'. Earlier in November 2018, Rahul had visited famous Brahma temple in Pushkar in Rajasthan and while offering 'puja' had revealed his 'gotra' as Kashmiri Kaul Brahmin.
#WATCH: Union Minister Ananth Hegde says on Rahul Gandhi, "They want proof of surgical strikes even when whole world acknowledged it. This Muslim who calls himself a 'janeudhari Hindu', son of a Muslim father & a Christian mother, does he have proof that he is a Hindu"? (10.3.19) pic.twitter.com/FWXFky5jXH

— ANI (@ANI) March 11, 2019
This is not the first time that the Union Minister had said something controversial. Earlier in January, he had stated, while addressing a rally in Karwar, He had said, "He (Rahul Gandhi) does not know this country. He has no clue about religion. Look how they lie. A father who is a Muslim, a mother who is a Christian and the son is supposed to be a Brahmin. How is that even possible." Check Full Schedule of Lok Sabha Elections 2019.
Adding more, Hegde had said, "You will not find such a hybrid specimen in any laboratory across the world. You'll find such specimen in Congress laboratory in this country, where the father and the son are of two different types."
However, there has been no reply by the Congress party as of yet on the above comments of the Union minister.