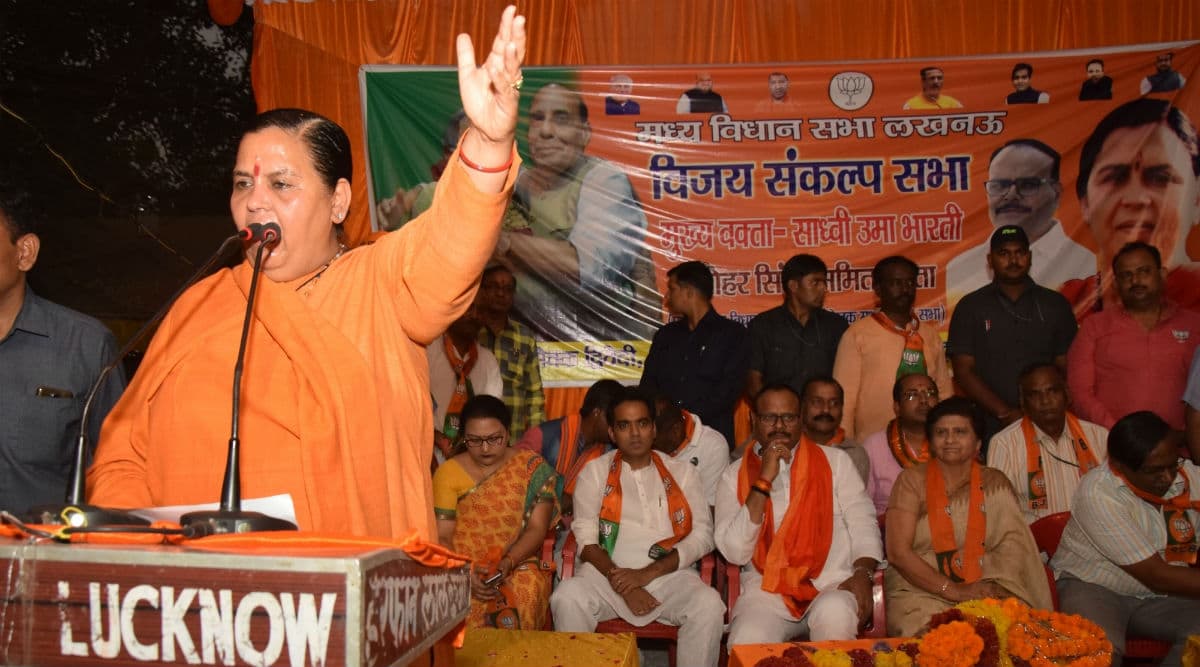 New Delhi, November 9: Senior Bharatiya Janata Party (BJP) leader Uma Bharti on Saturday welcomed the Supreme Court's verdict in the Ayodhya case and also paid tributes to Ashok Singhal, former International President of Vishwa Hindu Parishad (VHP), and Lal Krishna Advani. In a series of tweets, Uma Bharti said that LK Advani is "one of the gems" who laid the foundation on which the BJP is flourishing. Ayodhya Verdict: Full Text of Supreme Court Judgment in Babri Masjid-Ram Janmabhoomi Title Dispute.
"The divine judgement of the Supreme Court is welcome," Bharti tweeted. "A tribute to all those who laid down their lives for this work and a tribute to Advani Ji, under whose leadership all of us put our best at stake for this great work," she said in another tweet. The former union minister said that it was Advani who had stirred a debate over pseudo-secularism and nationalism. The Ayodhya campaign moved forward thanks to this debate, she added. Ayodhya Verdict Quotes: From PM Narendra Modi to Amit Shah and Other Key Leaders, Who Said What on the Supreme Court Judgment.
Uma Bharti's Tweets:
2. आडवाणी जी का अभिनंदन जिनके नेतृत्व में हम सब लोगों ने इस महान कार्य के लिए अपना सर्वस्व दांव पर लगा दिया था। #AYODHYAVERDICT

— Uma Bharti (@umasribharti) November 9, 2019
5. आज-अभी कुछ मिनटों में जब मैं उनके सामने खड़ी होंगी, तो मुझे लगेगा ही नहीं कि हिमालय पीछे छूट गया है, क्योंकि वो हिमालय जैसे ही हैं - महान और शीतल। ईश्वर उन्हें शतायु करे एवं स्वस्थ रखे।

— Uma Bharti (@umasribharti) November 9, 2019
Bharti is an accused in the Babri Masjid demolition case. A frenzied mob razed the 16th-century Babri mosque in Ayodhya on December 6, 1992. When this happened, Advani, Murli Manohar Joshi and other BJP leaders were present at the spot. Earlier today, a constitutional bench, headed by Chief Justice Ranjan Gogoi delivered the judgement in New Delhi, directing the Centre to hand over the disputed land to Hindus for building a Ram temple. Highlights of the Supreme Court Judgement in the Ayodhya Case.
Ruling that there is clear evidence that the Hindus believed Ram was born at the disputed site, the five-judge bench said the Sunni Waqf Board, which was a party to the 7-decade-old title suit, should be given an alternate five-acre land at some other suitable place for construction of a mosque. The apex court rejected the claim of Nirmohi Akhara of being a 'shebait' (a devotee who serves the deity).