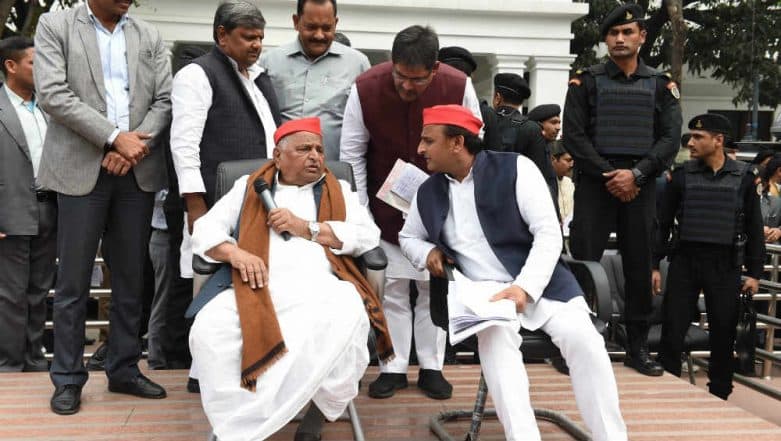 Lucknow, February 21: Samajwadi Party (SP) founder Mulayam Singh Yadav on Thursday hit out at his son Akhilesh Yadav who is now handling the party affairs all by himself on forming an alliance with Mayawati's Bahujan Samaj Party (BSP) in Uttar Pradesh for the upcoming Lok Sabha elections. While criticising Akhilesh, Mulayam Singh Yadav also made an offer to the former Uttar Pradesh chief minister.
Questioned the logic behind the seat sharing between the SP and BSP, Mulayam Singh said, "SP has more political muscle." "Now he has done the alliance with Mayawati…. And the seats have halved," he said during an interaction with party workers. As per the seat-sharing pact, BSP will contest 38 seats out of 80, whereas the SP will fight on 37. The SP founder also slammed his son for not deciding candidates. BSP, SP Divide Seats in Uttar Pradesh For 2019 Lok Sabha Elections: Check Full List of Constituencies.
"When I led the party, I had distributed tickets 14 months in advance. We then made the government," he said. "The BJP is ahead in campaigning," he added. The SP patriarch then offered to step in. "Look, so far, the tickets have not been decided. If he can't decide, then ask me, I will distribute tickets," he said. He also predicted that had the party decided to go it alone, it would yield better results. BJP Will Be Brought Down to 5 Seats in UP If BSP-SP Alliance Joins Hands With Congress, Says Mood Of The Nation Survey.
After a bitter and long-standing rivalry of 25 years, the BSP-SP had patched up and arrived at an electoral alliance for the Lok Sabha elections. They had also tested the waters in the by-polls for three parliamentary seats earlier and had successfully defeated the ruling Bharatiya Janata Party (BJP) in Kairana, Phulpur and Gorakhpur. The formal alliance was announced on January 12.
The SP will contest on 37 seats and the BSP will field candidates in 38 Lok Sabha constituencies. Two seats have been left for the Congress. The Rashtriya Lok Dal (RLD) has been given three seats in the alliance. Mulayam, insiders say, was particularly miffed as the SP got just 37 seats though it had won 5 seats in the 2014 parliamentary elections while the BSP had drawn a blank.